▲EMS/Non-needle/Micro-Needle Mesotherapy Series
SW-B01 Mini home use electroporation Skin Cool cooling heating skin care RF tightening remove dark circles machine
electroporation
skin tightening
body slimming
Face lifting
SW-B01 Mini home use electroporation Skin Cool cooling heating skin care RF tightening remove dark circles machine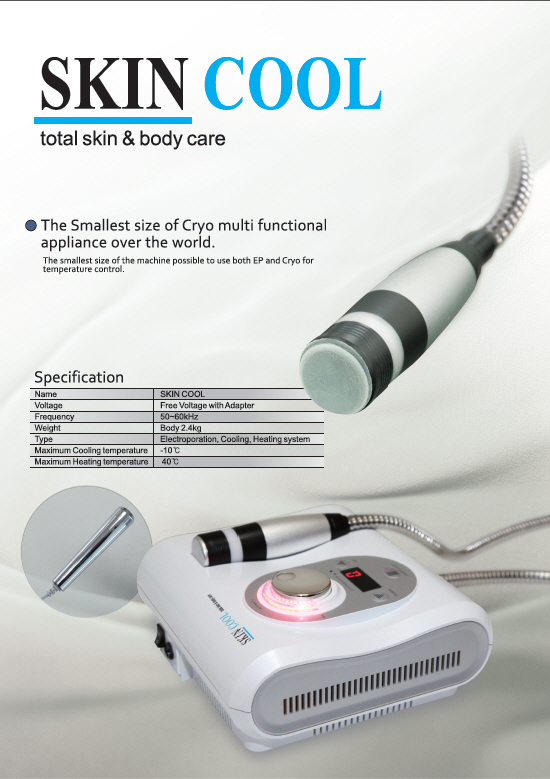 Working principle:
Main three features mainly used as "DNA cell injection treatment" Korean Medical Beauty, now carry
about 70 million more have applied SKIN COOL instrument, SKIN COOL available heating and cooling operation,
while injecting essence, the skin cells to absorb product up to 80% penetration rate of 20 more multiples, SKIN COOL
instrument has 9 large effect:
1. Promote lymph circulation
2. Subtract expression lines, light bitter grain
3. Remove skin yellowish, to edema
4. Minus double chin effectively eliminate dark circles, eye bags
5. Shrink pores, promote blood circulation
6. Anti-wrinkle, lifting his eyes
7. Activate the collagen layer of the skin and promote skin cell regeneration
8. Increase flexibility, enhance facial contours firmer
9. Promote fat dissolution.
Functions&Advantages:
For Wrinkle and regeneration:
- Stimulating blood circulation, increasing metabolism with direct effect of Radio frequency
which makes temperature of skin cell up to 40 degree to improve body's defense system
by increasing blood flow.
For freckle and whitening:
- Controlling secretion of Melanin and activating cell by eliminating toxin and body waste in the way of normalizing hormone secretion and producing oxygen.
For acne:
- Controlling secretion of sebum and regenerating skin with normalizing sebaceous glands since body heat increase.
For keen skin:
- Eliminating a bottleneck phenomenon with blood and lymph circulation, regeneration cell, tightening immune system up, taking care of healthy skin.
For slimming:
- Stimulating circulation of blood and lymph, alleviating muscles pain, decomposing fat, face sliming with skin resilience.
For Eye care:
- Restoring fatigue of eye, dark circle, stimulating blood and lymph circulation
Parameters:
Product name

SKIN COOL

Feateres

Multi

polar

RF+Electroporation

Output Power

DC 15V /2A

Input Power

AC 100~220V

Power consumption

8.5W

Frequency

50 / 60Hz

Temperature

cold -10 °, 40 ° heat

Output frequency

40.68HZ ----- 50HZ
Contact Us
Contact: Annie
Phone: 0086-15902095923
Tel: 0086-15902095923
Add: Guangzhou City,China.