▲EMS/Non-needle/Micro-Needle Mesotherapy Series
SW-N18 Portable Needles Free Water Mesotherapy Gun injector Skin Rejuvenation Meso Machine
Skin rejuvenation
no needle mesotherapy
EMS mesotherapy
Skin whitening
SW-N18 Portable Needles Free Water Mesotherapy Gun injector Skin Rejuvenation Meso Machine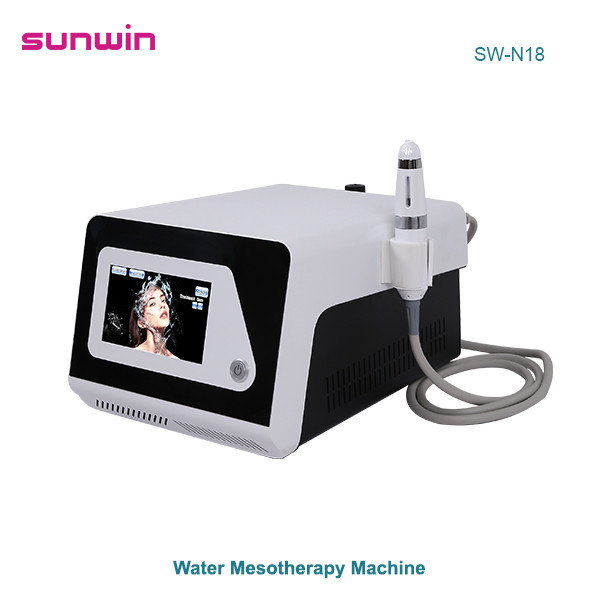 The needleless water instrument uses the latest technology of water-injection therapy. It allows the skin to absorb the product perfectly and make the basal layer of the skin to grow into a new tissue.The new skin will be more delicate, thus achieving the most beautiful skin.

The non-invasive Water instrument uses high-end equipment and utilizes hyaluronic acid of nano-molecular , combined with unique needleless transdermal technology, will be rich in water molecules of hyaluronic acid, oxygen molecules, minerals, trace elements and nutrients needed by the skin, Therapeutic drugs, etc., release nutrients layer by layer to the skin and provide multiple functions such as hydration, lifting, whitening, wrinkles, and damaged skin.
Function
1.Face Lifting
2.Skin Rejuveration
3.Vacuum Injection
4.Plump cheeks
5.Abundant lip
6.Whitening Moisturizing;
7.Improve acne pit (atrophic scar);
8.Improve rough pore and neck lines, etc;
9.Prominent cheekbones relieved;
10.Highly improve the forehead, temple, nose, eyes, mouth weeks light aging.
Features
1.High-efficiency oxygen injection
2.Non-invasive patented transdermal technology, directly access to the muscles
3.Efficiently delivering nutrients and essence, keep hydrating.
4.Completely repairing muscle cells and soft tissues.
5.Instantly having the star's Watery skin in 9 minutes.
Contact Us
Contact: Annie
Phone: 0086-15902095923
Tel: 0086-15902095923
Add: Guangzhou City,China.