▲Fractional micro RF/thermo RF face lifting
SW-27F Portable home use RF radio frequency skin tightening devicewrinkles removal tighten sagging skin
RF
skin tightening
body slimming
Face lifting
SW-27F Portable home use RF radio frequency skin tightening devicewrinkles removal tighten sagging skin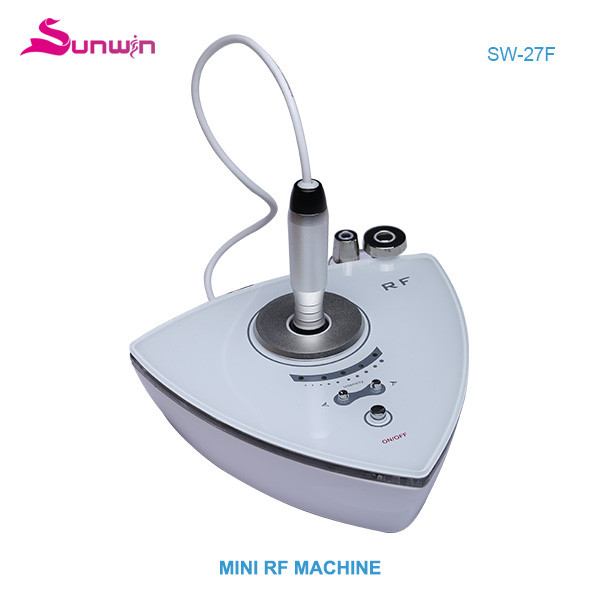 RADIO FREQUENCY
Dissolve the fatness, do lymph drainage, skin tightening, enhance skin elasticity.Under pressures,the
exploded fatness was taken by the lymph,then disorganized by the ferment which is decomposed by the
fatness,change to be dissociative fatty acid, exhausted in normal activity, then out of the body.one 5Mhz
tripolar RF head for skin rejuvenation for body and one 1Mhz bipolar RF for face and eyes skin lifting.
Treatment range:
♦Firm the arms, legs, thighs, buttocks, waist,back, abdominal muscles and reshape the body figure
♦ Improve and treat the orange peel like fatty tissues of different serious levels
♦ With the effects of soothing, decompression and pain relief (such as joint pain, sciatica),promote
the regular mechanical aerobic exercise of skin tissue, rapidly relieve stress and remove fatigue.
♦ Firm, lift and compact the skin and mould the face shape
♦ Circulate and activate cells, promote metabolism and so that 100% more collagen and elastic
fibers may be gained for improving the facial and body skin
Application
1, deeper wrinkles and mild to moderate skin laxity: the amount of stripes, frown lines, crow's feet, bridge of the nose stripes, nasolabial folds, perioral wrinkles, neck wrinkles, especially for the amount of stripes and periorbital good wrinkle effect;
2, to the double chin;
3, RF lean muscle: for muscular legs shaping, masseter hypertrophy of the face-lift, etc.;
4, stretch marks, such as stretch marks;
5, firming skin after liposuction, etc.
RF treatments cause the heating of fat cells in the adipose layer. This loose connective tissue is comprised mostly of adipocytes and stores energy in the form of lipids (fats). The heat from RF forces the adipocytes to release the fatty acids into the lymphatic system, which acts as a filter for the body. Once the fatty acids are released from the adipocytes, they shrink and the body becomes slimmer.
Contact Us
Contact: Annie
Phone: 0086-15902095923
Tel: 0086-15902095923
Add: Guangzhou City,China.