▲EMS/Non-needle/Micro-Needle Mesotherapy Series
SW-26F No needle mesotherapy electroporation RF BIO face lift facial rejuvenation beauty equipment
no needle mesotherapy
electroporation
skin rejuvenation
face lifting
SW-26F No needle mesotherapy electroporation RF BIO face lift facial rejuvenation beauty equipment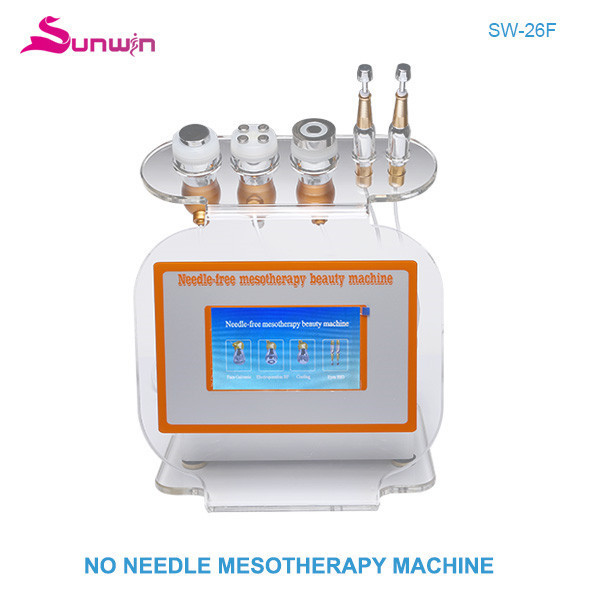 Product Description:
1.The Principle of no needle mesotherapy machine
No-needle mesotherapy is fully replaced traditional beauty of injection molded plastic
(beauty) and micro stitch of efficiency, safety, and the introduction of "beauty therapy".
Using the latest water channel protein electrophoresis and new technology to various
active ingredients of import, supplemented by lambency and frozen stimulation, using "to"
superfine osmosis technology, more even and comprehensively and deeply, the original
liquid transportation high-energy directly to the skin and make for contains a variety of
nutrition and active ingredients of high-energy primary fluid, quickly absorbed by skin
tissue, play a role, which produce effect, promote skin metabolism
2.Core technologies
A. lambency stimulation technologies
B. electroporation technology
C. electricity penetration technology
D. frozen stimulation technologies skin care
3.Function:
1. Stimulate the formation of blood vessels, leather, blood circulation to help take sugar
and fat, protein metabolism wastes
2. Whitening and anti-wrinkle
3. Take away the molecular structure of cells, skin completely open power operation in
the skin surface infiltration head with a method of grain is slightly along the skin and
smooth movement of extrusion.
4. Clean the skin, daub hydrating moist products,
5. Ice therapy effect on skin, lock moisture and nutrients
4.Parameters:
| | |
| --- | --- |
| Model: | SW-26F |
| Cooling temperature: | 1-3°C |
| Output power: | 160W |
| Voltage: | 220/110V 50Hz/60Hz |
| Package size: | 42×42×37cm |
| Gross weight: | 7Kgs |
| Warranty: | 12 months |
Contact Us
Contact: Annie
Phone: 0086-15902095923
Tel: 0086-15902095923
Add: Guangzhou City,China.