▲Weight Loss System/Vela/Cryolipolysis/RF Cavitation/Lipolaser/Shockwave RF
SW-N8 Velashape V3 body slimming vacuum roller suction RF cavitation LED body slimming fat removal machine
Cavitation
Vacuum roller
RF skin tightening
Suction body slimming
SW-N8 Velashape V3 body slimming vacuum roller suction RF cavitation LED body slimming fat removal machine
Handles Details:
1, Large handle with vacuum roller+RF+IR, for large area such as thigh,buttock,waist and abdomen.
2, Medium handle,vacuum roller+RF+IR,button control,for small area,such as arms,flanks.
3, Small handle,vacuum +RF,for face,forehead and neck.
4, Smallest handle, vacuum +RF eyes .
5, Large 40KHz cavitation handle for all body slimming .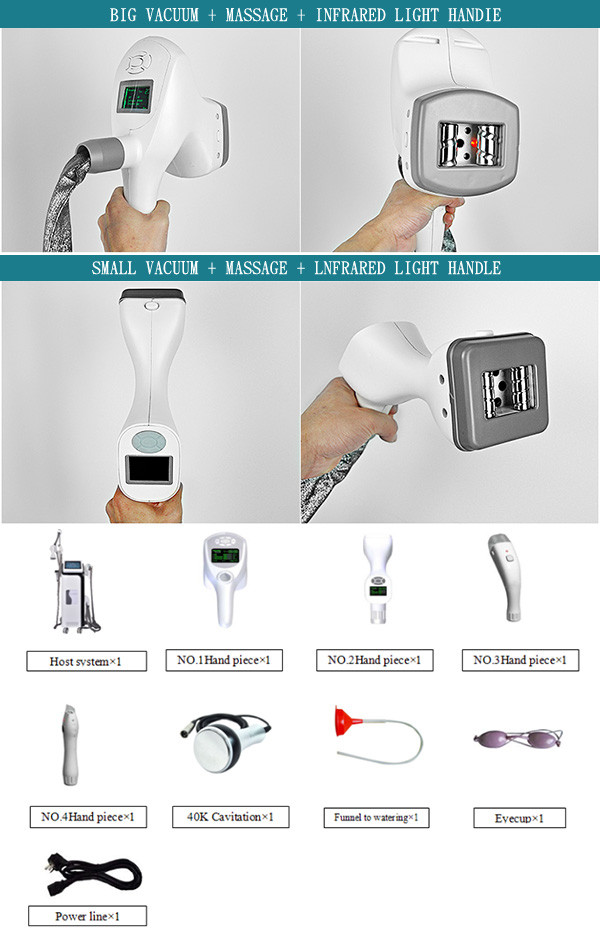 Vacuum roller velashape is the popular technology on market,
with the mechanical movement combining
with RF and Infrared,it can penetrate the skin depth of 15mm,
so it is more than to reduce the deeper fat,but also effective to tighten
and firm the skin . Fast slimming , safe and no pain .
Technical Specification:
LCD screen

1) Display screen: 10.4/8″ Chromatic Screen

2) Display screen of handpiece

Display screen on handpiece 1: 2.4″

Display screen on handpiece 2: 1.9″

Working mode

Pulse

Pulse width

0.5s-7.5s

Negative pressure

1) Absolute value: 80kPa -10kPa (60.8cmHg - 7.6cmHg)

2) Relative value: 20kPa -90kPa (15.2cmHg – 68.4cmHg)

Rev of roller

0-36 rpm

RF frequency

1-5MHz

Treatment area

4mmx7mm,8mmx25mm,30mmx50mm,40mmx60mm

Packing size

127*75*75CM

Rated input power

750VA

Packing list

No. 1 big vacuum RF laser head for body * 1

No. 2 vacuum RF laser head for arms * 1

No. 3 vacuum RF laser head for face * 1

No. 4 small vacuum RF laser head for eyes * 1

40K cavitation head * 1

Power cord * 1

Rotary knob screws * 12

Acrylic accessories hanging rack * 2

Aluminum holder * 1

Acrylic accessories hanging rack screws * 6

Clothes for treatment * 2
Applications:
1. body shaping,body slimming,fat reduce
2. body circumference reduction,
3. cellulite reduction,
4. skin tightening,Skin lifting
5. wrinkle removal, face lifting
6. skin surface smooth,
7. Body Contouring and shaping,massage
8. eyelid area treatment. facial vacuum suction machine
Contact Us
Contact: Annie
Phone: 0086-15902095923
Tel: 0086-15902095923
Add: Guangzhou City,China.