▲Weight Loss System/Velashape/Cryolipolysis/RF Cavitation/Lipolaser/Shockwave RF
CR7 body belly slimming machine coolsculpting fat freezing cryolipolysis slim freezer weight loss cool tech fat freezing system
cryolipolysis
weight loss
body slimming
4 handles
CR7 body belly slimming machine coolsculpting fat freezing cryolipolysis slim freezer weight loss cool tech fat freezing system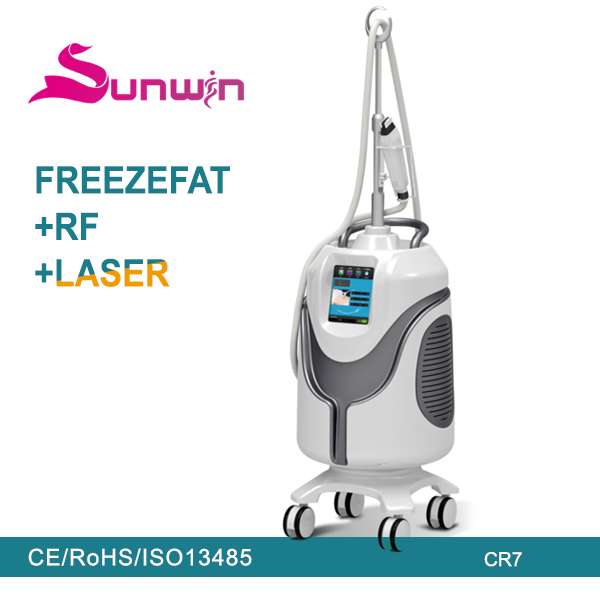 How cryolipolysis laser rf machine work?
1. Deep heating:
The deep heating helps tighten the collagen in your dermis and subcutaneous tissue,
while also stimulating the formation of new collagen. As a result, you'll see tighter,
smoother skin and improved tone and texture, starting immediately and continuing
in the months following treatment.
2. Integrated cooling:
At the same time that machine heats the deep layers, it also cools the epidermis,
keeping the surface of your skin safe during the procedure.
As a result, your skin needs no recovery time, so you can quickly resume your daily routine.
Features of cryolipolysis rf laser machine:
• Designed for different deep-specific RF frequency (0.8mhz,1.6mhz,2.6mhz) for wrinkle
unique performance.
• Intelligent epidermal skin cold wave system ensure that the RF working area is not
heating but also has a good work on penetrating into the dermis to tighten the collagen
protein and stimulate the proliferatin of collagen protein .
• 650nm light wave enjoys the strongest penetration ability, to stimulate blood circulation,
enhance the vitality of human cells and promoting protein synthesis.
• Laser-Radio frequency combined output, with the pulsating work.
The key of patented technology is preventing regeneration,bonding with the sorrounding
coolagen to form a solid support.
• Using an 8 inch color LCD displaying system.
Accessories List of cryolipolysis rf laser machine:
| | |
| --- | --- |
| Host | 1 set |
| Cool/RF fat dissolving handle for body | 1 pcs |
| Cool/RF fat dissolving handle for face | 1 pcs |
| Serivce brake | 1 pcs |
| Handles Support | 1 pcs |
| Two pieces of liquid addition accessory | 1 set |
| Power supply line | 1 pcs |
| User manual | 1 copy |
| Hexagonal screw | 1 pcs |
| Hexagonal screw driven | 1 pcs |
| Black sealing ring | 10 pcs |
| Silicic pipe ( 10mmX6mmX40cm with CPC plug) | 1 pcs |
Contact Us
Contact: Annie
Phone: 0086-15902095923
Tel: 0086-15902095923
Add: Guangzhou City,China.