▲Weight Loss System/Velashape/Cryolipolysis/RF Cavitation/Lipolaser/Shockwave RF
CRV6 body belly slimming system coolsculpting fat freezing cryolipolysis slim freezer weight loss cool tech fat freezing machine
cryolipolysis
weight loss
body slimming
4 handles
CRV6 body belly slimming system coolsculpting fat freezing cryolipolysis slim freezer weight loss cool tech fat freezing machine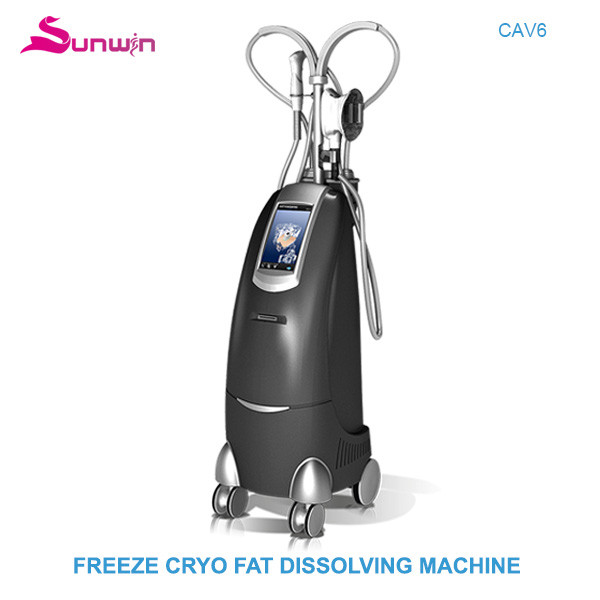 1.Cool Technology:
As triglyceride in fats will be converted into solid in particular low temperatures. It uses
advanced cooling technology to selectively target fat bulges and dissolve fat cells through
a gradual process that does not harm the surrounding tissues, reduce unwanted fat, When
fat cells are exposed to precise cooling, they trigger a process of natural removal that
gradually reduces the thickness of the fat layer. And The fat cells in the treated area are
gently dissolved through the body's normal metabolism process, to dissolve unwanted fat.
2. Vacuum Multipolar RF Theory
( Vacuum Multipolar RF +Red Light )deploys heat using multiple Radio Frequencies in
3 different treatment modes that target different tissue depths, from superficial layers of
the skin to the hypodermis. The 4th mode - multi-channel mode - creates a stronger, more
accurately distributed thermal response that travels through all skin layers. this new and
innovative technology also facilitates easier penetration of RF energy which travels more
easily through pre-heated tissue.
3. Blue / Red Light Theory
Red Light main function: The red light can accelerate the growth of collagen fiber by photochemical biology activity. The red light act on chondriosome in the hypoderm to generate more power which speed up the synthesis of DNA, RNA, and a lot of collagen and fiber is produced and accelerate the elimination of waste or dead cell, then to alleviate the symptom of aging skin, large pore, fine wrinkle, and muddy complexion.
Blue Light main function: The visible blue light emitted by LED can be perfectly absorbed by acne bacillus, and the metabolism of bacillus will generate a mass of singlet oxygen which is harmful to the acne bacillus so as to kill them and eliminate acne in the skin. Photochemical reaction also accelerates the collagen fiber generation.
4. Cold Laser Theory
Cold laser is a pain-free, non-invasive device used for reducing fat by shining the emitted light (laser) over the skin.Cold laser uses a low-level laser to target the stubborn spots that don't respond to regular diet and exercise.
Cold laser gives fast results, with improvements showing immediately after the first treatment and over the course of treatments. Cold laser is ideal for someone who has made a decision to improve their overall diet and exercise regime, or has struggled to get results from a particular area despite regular exercise and healthy eating.
Cold laser is a spot fat reduction technique that help lose weight in the areas that are traditionally much harder to target.
Application:
1. Fat dissolving
2. Body contouring
3. Skin elasticity improvement
CRV6 Parameter:
| | |
| --- | --- |
| Input | 220V/ 50Hz or 110V/ 60Hz |
| Power | < 500 VA |
| Heat | 37℃~45℃ |
| Cryo | 5℃~- 10℃ |
| Vacuum | 10~80Kpa |
| Light | Red( 630nm) Green( 570nm) 50mWX4 |
| Cooling liquid | Pure water or special coolant |
| Volume | 45cmX50cmX100cm |
| Fuse | T3. 15AL250V |
| Ambient temperature | 5℃~40℃ |
| Relative Humidity | ≤80% |
| Outpur RF frequency | 0.8MHz 2.6MHz |
Contact Us
Contact: Annie
Phone: 0086-15902095923
Tel: 0086-15902095923
Add: Guangzhou City,China.