▲Weight Loss System BTL exilis/Velashape/Cryolipolysis/RF Cavitation/Lipolaser/Shockwave RF
SW-N11 velashape machine for sale body sculpting cellulite laser infrared vacuum rf roller body slimming machine for beauty salon
Cavitation
Vacuum roller
RF skin tightening
Suction body slimming
SW-N11 velashape machine for sale body sculpting cellulite laser infrared vacuum rf roller body slimming machine for beauty salon
The Vela Slim device employs Four technologies including Infrared, Bipolar RF, Vacuum, Massage mechanism.
1.Infrared light (IR) heats the tissue up to 5mm depth.
2. Bi-polar radio frequency (RF) heats tissue from 2 to 20mm depth.
3. Vacuum + Massage mechanism accelerate blood circulation and increase blood flow, so as to drain the excessive water and body waste.
4. 40kHz focused ultrasound cavitation effect, to cause tons of microscopic air bubbles to surround the lipocyte (fat cell) membranes and with its resonant frequency, the bubbles cause a high enough pressure to cause the fat cells to break up instantly.
Mechanical Manipulation (Vacuum +/- Massage mechanism):
a. Stimulates lymphatic and blood circulation
b. Facilitates fibroblast activity
c. Reduces viscosity of fat cell clusters.
d. Promotes vasodilation and extravasation of oxygen and nutrients
e. Enables heating at different depths vacuum&rf slimming equipment
Heating (infrared + radio frequency energies):
a. Enhances blood circulation and increases oxygen dissociation from oxyhemoglobin
b. Facilitates fibroblast activity
c. Increases metabolism of fat cells. suslaser beauty equipment
d. Improves skin texture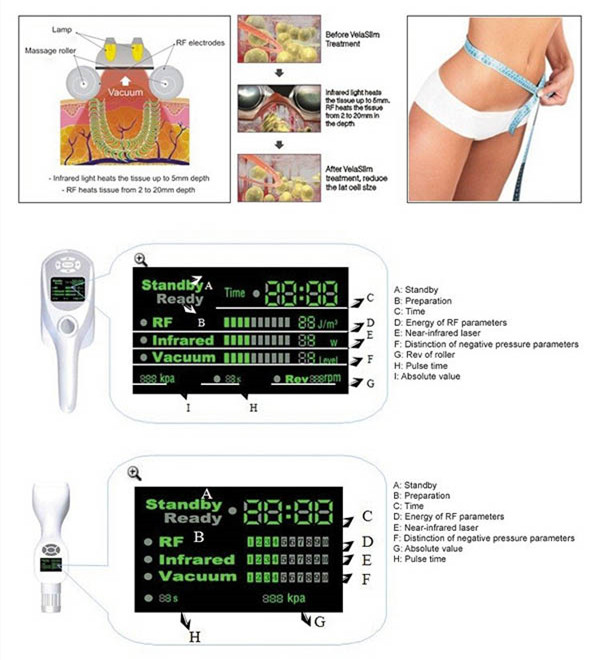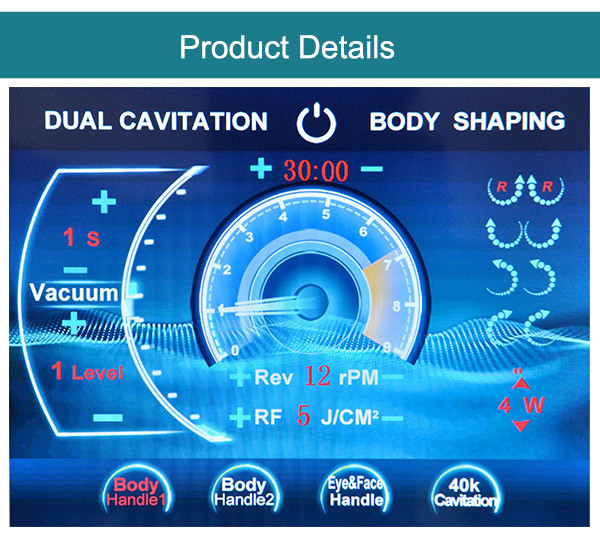 Applications:
1. body shaping,body slimming,fat reduce
2. body circumference reduction,
3. cellulite reduction,
4. skin tightening,Skin lifting
5. wrinkle removal, face lifting
6. skin surface smooth,
7. Body Contouring and shaping,massage
8. eyelid area treatment. facial vacuum suction machine
Contact Us
Contact: Annie
Phone: 0086-15902095923
Tel: 0086-15902095923
Add: Guangzhou City,China.