▲808nm/Triple wavelength 1064nm 755nm 808nm diode laser machine
SW-810E-3 1200W Powerful 808nm diode laser painless permanent hair removal machine
Fast and painless hair removal
German laser bar
808nm diode laser
1200W laser power
SW-810E-3 1200W Powerful 808nm diode laser painless permanent hair removal machine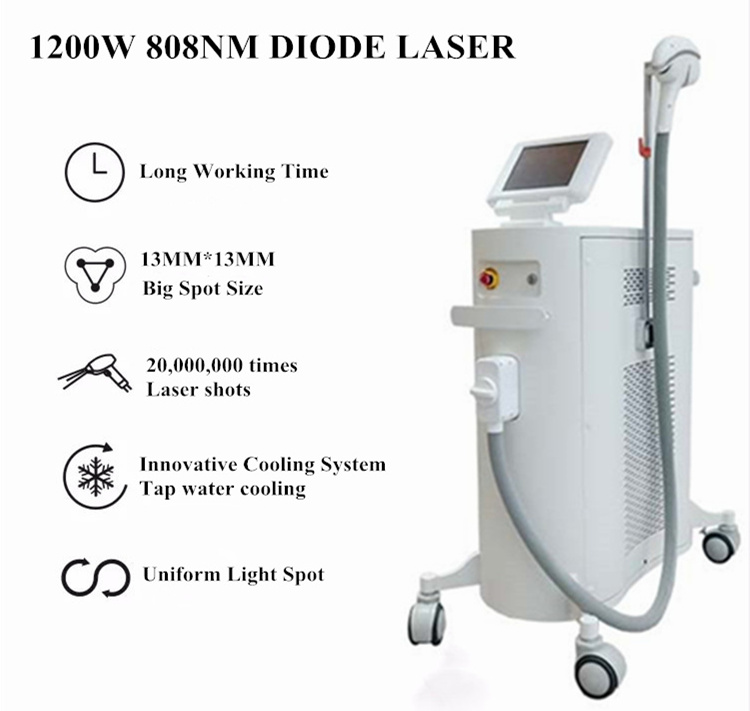 Application
1. Permanent hair removal in different areas: Lip hair,beard, chest hair, armpit hair, back hair,arm hair, leg hair and unwanted hair outside the bikini line.
2. Suitable for all types of skin (I, II,III, IV, V, VI.), no pigmentation,almost no skin scattering, no harm to the skin and sweat glands, no scar, no side-effect.
3. International hair removal standard-Safe, Fast, High Efficiency.
Working Principle
Advanced technology 808nm permanent hair removal painless hair removal diode laser use special laser with long Pulse-Width 808nm, can penetrate to hair follicle . Using selective light absorption theory laser can be preferentially absorbed by heating the hair shaft and hair follicle, moreover to destroy the hair follicle and oxygen organization around hair follicle. When laser outputs, system with special cooling technology, cool the skin and protect skin from being hurt and reach a very safe and comfortable treatment.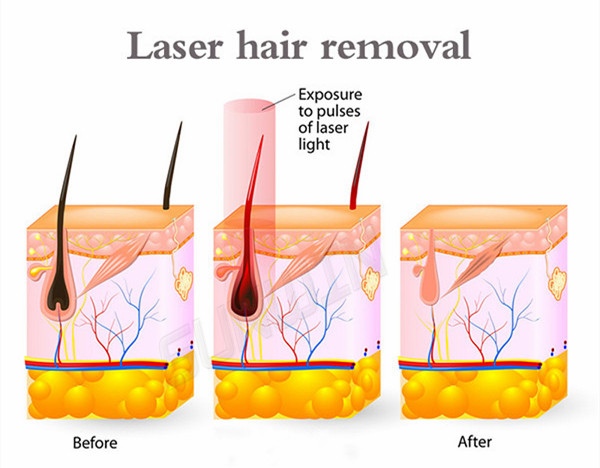 Advantages
Strong Power and good effect
1200w high energy Optical master offering strong light emission, fast and permanent hair removal, good effect after only one treatment.
Comfortable treatment
10ms short pulse width ensure the total treatment process to be painless and safe
Uniform light spot
The Optical master adopt LIMO lens to increase optical alignment, so our diode laser handle can shoot out more uniform spot to bring more effective treatment result
Long life time
20.000.000 Guaranteed Shots ensure long life time. Such long life time greatly enhance your rate of return.
Innovative Cooling System (Tap water cooling )
Unlike other diode laser machine which must use the distilled water, ODI-LD810 adopt advanced conduction cooling technology so the tap water is available for cooling
Technology Parameter
| | |
| --- | --- |
| Laser type | 808nm Diode Laser Fast Hair Removal Machine |
| Optical master Power | 1200w |
| Optical master Cooling | Conduction cooling mode |
| Wavelength | 808nm+/- 10nm |
| Pulse Width | 10ms |
| Repetition Rate | 1Hz~10 Hz |
| Handle Life Time | 20.000.000 shots |
| Energy Density | 10J/ cm² |
| Laser Window | 13mm*13mm |
| Laser Cooling Liquid | Tap water |
| Handle Piece Flow Rate | 2-3L/min |
| Input VAC | 220VAC /50 - 60 Hz(110VAC optional) |
Contact Us
Contact: Annie
Phone: 0086-15902095923
Tel: 0086-15902095923
Add: Guangzhou City,China.