▲808nm/Triple wavelength 1064nm 755nm 808nm diode laser machine
SW-808E-31 Triple wavelength 1064nm 755nm 808nm diode laser system brown hair removal men back hair removal beauty machine
Painless hair removal
German Jenoptik laser bar
Triple wavelengths diode laser
600W laser power
SW-808E-31 Triple wavelength 1064nm 755nm 808nm diode laser system brown hair removal men back hair removal beauty machine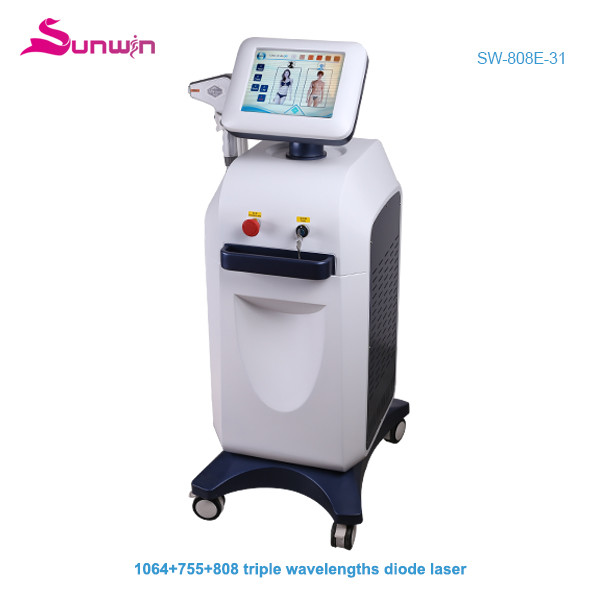 Hair removal - Faster, painless and better.
√ 755nm: specific effective for Blonde hair, Fine hair.
√ 808nm: golden standard wavelength for all hair types.
√ 1064nm: specific effective for dark, tanned skin.
As a integrated solution, triple wavelengths diode laser combines the benefits of all 3 wavelength 808nm, 755nm and 1064nm.
Target different tissue depths as well as structures within hair follicles. Thus to the greatest extent to ensure effective result and painless.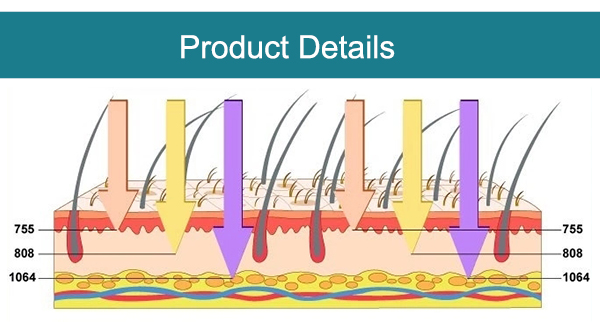 Advantages
1. High quality spare parts --all the core components are imported .
Swizerland imported micro-channel laser bars.
Germany imported semiconductor cooling system, insures the machine continuously working 24 hours without any stop.
USA CPC water connector & Germany Harting electronic connector.
Italy water pump, no noise and larger water flow for better cooling, prolong laser life.
2. Newly designed diode laser handle, more stable and convenient to use.
3. High quality water filter and testmeter, insures the high purity for the water, prolong the lifetime of laser bar.
4. Long continuously working one day with constant temperature
5. Sliding treatment way, spot size 15*15mm, remove hair fastly and effectively
6. Automatical alarm system: once any problems happens, machine will stop working immediately. Protect the patient and machine firstly.
7. Medical CE approval high quality promised.
Contact Us
Contact: Annie
Phone: 0086-15902095923
Tel: 0086-15902095923
Add: Guangzhou City,China.