▲808nm/Triple wavelength 1064nm 755nm 808nm diode laser machine
SW-808E-9 stationary 808nm diode laser painless hair removal equipment
Painless hair removal
German Jenoptik laser bar
808nm diode laser
600W laser power
SW-808E-9 stationary 808nm diode laser painless hair removal equipment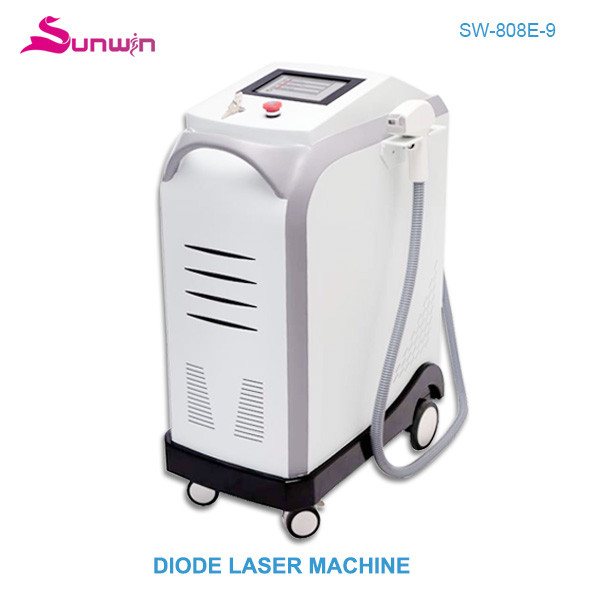 Theory:
808 nm diode laser hair removal technology is based on the selective absorption of light and heat.The laser goes through the epidermis layer to reach the root of hair follicles,laser can be absorbed and converted into heat to destroy the hair follicle and the surrounding oxygen tissue; Meanwhile,the particular super cooling system can creat certain anesthetic effects, to protect the epidermis layer from burn by laser energy, which ensure a safe and effective treatment.At the same time, 808 nm diode laser heat hair follicles to 48°C under lower energy density mode,hair follicle cells will loss activity after sustaining sliding from the handpiece, so as to get the effect of permanent hair removal.The fast sliding, long pulse width, big spot, and super cooling advantage make this diode laser system to be the most fast, effective, safe and painless hair removal system.
1. Application range:
Hair removal: permanently remove armpit hair, hairline, beard, whiskers, lip hair, body hair, bikini hair or any other unwanted hair for all skin type .
2. Equipment consist:
This machine is microcomputer controlled. It is composed of three parts:
Mainframe, control panel, diode laser handpiece.
The operation and control parts are in the mainframe, the built-in integrated micro controller can monitor the operation of equipment continually.
The control panel include: touch LCD screen (show the system working mode and parameters), key switch, emergency switch.
The treatment handpiece include: laser emitter and transmission system, handheld operation by user.
3.Technical parameter:
| | |
| --- | --- |
| Laser type | Diode laser |
| Laser wavelength | 808nm |
| Output mode | pulse emission |
| Spot size | 10*16mm |
| Pulse width | 20-1000ms |
| Frequency | 1-10HZ |
| Output Power | 1600W |
4. Safety:
808nm laser treatment is a safe and reliable way to remove unwanted hair. As long as the trained and qualified medical personnel operate and maintain properly, it can make sure the safety operation.
Operator and maintain personnel should fully understand the safety information provided in this chapter. The safety of patients, operators and other personnel comes first.
Using sealed white gem crystal to transmit l laser to the patient's skin,
the light pulse can only be emit from the front surface of the gem crystal.
• Shut off power by emergency switch when accident happens.
• Key switch is to prevent abuse of the machine.
• The buzzer beeps when the device is ready to emit light pulse.
Contact Us
Contact: Annie
Phone: 0086-15902095923
Tel: 0086-15902095923
Add: Guangzhou City,China.