▲808nm/Triple wavelength 1064nm 755nm 808nm diode laser machine
SW-808E-11 Triple wavelength 1064nm 755nm 808nm diode laser system black white hair removal hair removal thighs beauty equipment
Painless hair removal
German Jenoptik laser bar
Triple wavelengths diode laser
600W laser power
SW-808E-11 Triple wavelength 1064nm 755nm 808nm diode laser system black white hair removal hair removal thighs beauty equipment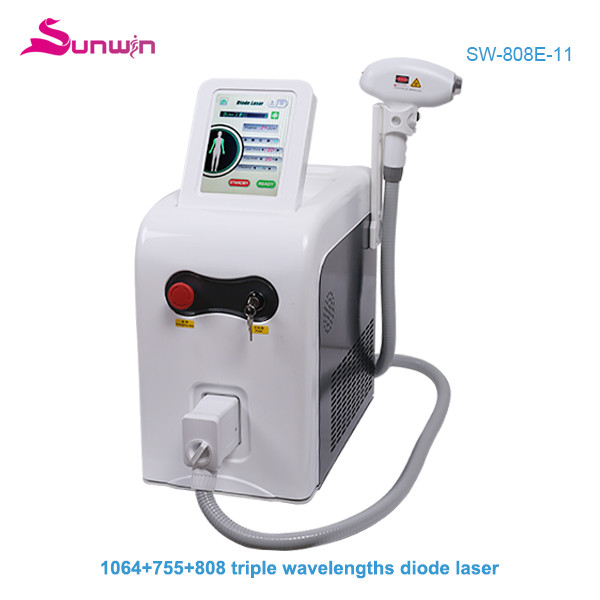 Basic Principle
Multi-wavelength (755nm+808nm+1064nm) 3 in 1 Diode Laser Hair Removal is accomplished when destroying hair follicular unit by thermal damage of laser density and thus inhibiting future hair regrowth by the follicle. The widely optional pulse duration (5-300ms) of Multi-wavelength (755nm+808nm+1064nm) 3 in 1 diode laser system can produce thermal damage in hair matrix stem cells and ensure follicular destruction. In order to minimize the uncomfortable of thermal damage to surrounding skin cells, an efficient skin-cooling system (Sapphire surface contact cooling tip) is used to chill the skin during treatment period. Therefore, Multi-wavelength (755nm+808nm+1064nm) 3 in 1 diode laser has better effectiveness for hair removal in patients with dark skin.
What's the difference of 755nm Laser, 808nm Laser and 1064nm Laser?
755nm (Alexandrite Laser)
755nm laser is suitable for light skin types and soft hair. 755nm laser has higher surface penetrating power for bulge of the hair follicle and embedded hair. e.g. eyebrow and beard.
808nm (Diode Laser)
808nm laser is globally recognized as the gold standard for safely treats Fitzpatrick skin type I-VI. 808nm laser is clinically documented and proven to deliver results, and effectively treats the broadest patient group. e.g. chest, back, face, arms and legs.
1064nm (Long Pulsed Nd:YAG Laser)
1064nm laser focus on the solution of dark skin types and tanned skin. 1064nm laser has maximum penetrating power for hair follicle and embedded deeper hair. e.g. hairline, armpit and pubic hair.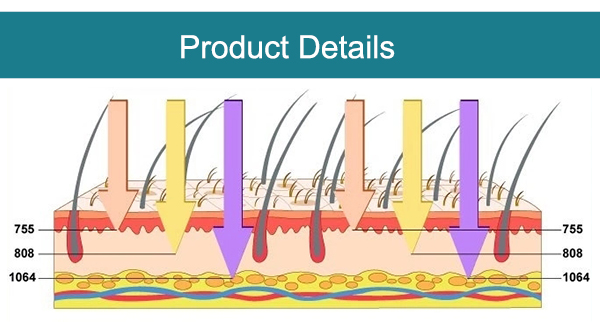 Advantages
1. High quality spare parts --all the core components are imported .
Swizerland imported micro-channel laser bars.
Germany imported semiconductor cooling system, insures the machine continuously working 24 hours without any stop.
USA CPC water connector & Germany Harting electronic connector.
Italy water pump, no noise and larger water flow for better cooling, prolong laser life.
2. Newly designed diode laser handle, more stable and convenient to use.
3. High quality water filter and testmeter, insures the high purity for the water, prolong the lifetime of laser bar.
4. Long continuously working one day with constant temperature
5. Sliding treatment way, spot size 15*15mm, remove hair fastly and effectively
6. Automatical alarm system: once any problems happens, machine will stop working immediately. Protect the patient and machine firstly.
7. Medical CE approval high quality promised.
Specification
| | |
| --- | --- |
| Wavelength | 755nm/808nm/1064nm |
| Frequency | 1~10hz adjustable |
| Energy | 120J/cm²~150J/cm² |
| Cooling system | TEC+Sapphire refrigeration |
| Spot size | 15mm*15mm |
| Laser power | 4PCS 600W |
| Laser bar | Imported from German,Jenoptik,150W/PCS |
| Pulse width | 5ms~400ms adjustable |
| Language | Multi language |
| Screen size | 8inch LCD screen |
Contact Us
Contact: Annie
Phone: 0086-15902095923
Tel: 0086-15902095923
Add: Guangzhou City,China.