▲808nm/Triple wavelength 1064nm 755nm 808nm diode laser machine
SW-808E-2 Medical CE approval US laser bar 600W sapphire cooling diode laser painless hair removal machine
Painless hair removal
laser epilator
808nm diode laser
600W laser power
SW-808E-2 Medical CE approval US laser bar 600W sapphire cooling diode laser painless hair removal machine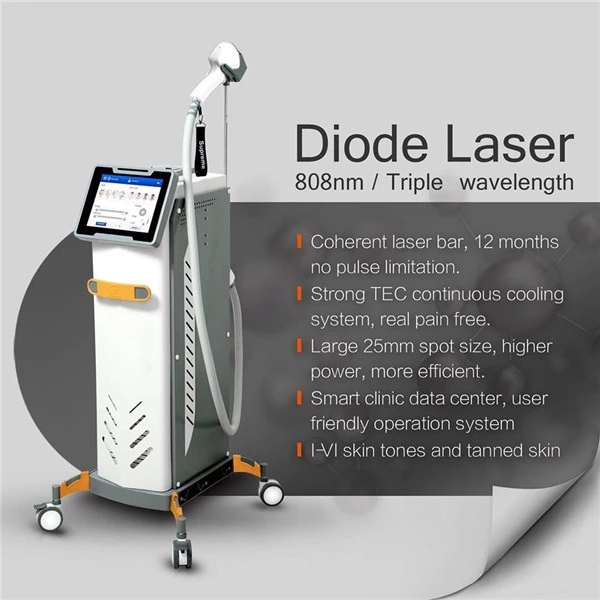 How Does A Diode Laser Work?
Diode lasers use the principle of selective photothermolysis (abbreviated SPTL) to target specific chromophores in the skin, usually melanin or blood. The lasers damage the chromophores by selectively heating them while leaving surrounding tissue unharmed. When treating unwanted hair, for example, the melanin in the hair follicles is targeted and damaged which results in the disruption of hair growth and regeneration. A diode laser can be complemented by cooling technology, or other pain reducing methods which improve treatment efficacy and patient comfort.
The fast sliding, long pulse width, big spot, and super cooling advantage make this diode laser system to be the most fast, effective, safe and painless hair removal system.
1. Application range:
Hair removal: permanently remove armpit hair, hairline, beard, whiskers, lip hair, body hair, bikini hair or any other unwanted hair for all skin type .
2.Technical parameter:
| | |
| --- | --- |
| System type | High power diode laser |
| Wavelength | 808nm;triple length |
| Laser | 600W,800W,1000W,1200W,1600W |
| Power | Max 2000W |
| Energy output | Up to 150J/cm2 |
| Spot size | 10mm*10mm,10mm*15mm,10mm*25mm |
| Pulse duration | 10-400ms,1ms step |
| Frequency | 1-10hz |
| Cooling | Sapphire tip contact cooling(-5℃-5℃) |
| Dimension | 450(L)*410(W)*1140(H)mm |
| Weight | 45kg |
Advantages:
•Constant-current+pulse power supply, provide more steady output laser
•Laser beam is almost closed to parallel beam
•Mechanical filtration+ionic filtration+biological filtration
•Professional painless super hair removal system, long working life.
•Japan imported nano thermal siliconegrease.
•S-shape water tank in series.
•Automatic inspiration high pressure & high rotation water pump.
Contact Us
Contact: Annie
Phone: 0086-15902095923
Tel: 0086-15902095923
Add: Guangzhou City,China.