▲808nm/Triple wavelength 1064nm 755nm 808nm diode laser machine
SW-808E-52 Diode laser 808+IPL+RF+Picoseond Nd Yag Laser 4 in1 beauty salon machine for hair anf tattoo removal skin rejuvenation
Painless hair removal
German Jenoptik laser bar
Triple wavelengths diode laser
600W laser power


Product Introduction
The 4in1 Skin Beauty Apparatus is a comprehensive and efficient facial care system.
It is a multifunctional beauty apparatus that integrates the four core technologies of photon skin rejuvenation, radio frequency firming, 808 diode laser hair removal and ND YAG laser beauty in the field of medical beauty. Combining a variety of energies, it gives full play to the efficacy of light energy, bipolar radio frequency, 808nm laser and YAG laser, and has significant clinical effects. It has been proven to be safe and effective for different skin types and skin tones.
Applications
1) Diode laser hair removal
808 machine use special laser with long Pulse Width 808nm, can penetrate to hair follicle. Using Selective light absorption theory, laser can be preferentially absorbed by the melanin ofthe hair And then heating the hair shaft and hair follicle, moreover to destroy the hair follicle and oxygenOrganization around hair follicle. When laser outputs, system with special cooling technology, cool the skin and protect skin from being hurt and reach a very safe and comfortable treatment!
1) Gold standard 808nm diode laser professional painless super hair removal machine.
2) Permanent Hair Reduction on all pigmented hair and all skin types—including tanned skin.
3) Pain-Free, Hair-Free - Comfortable Hair Removal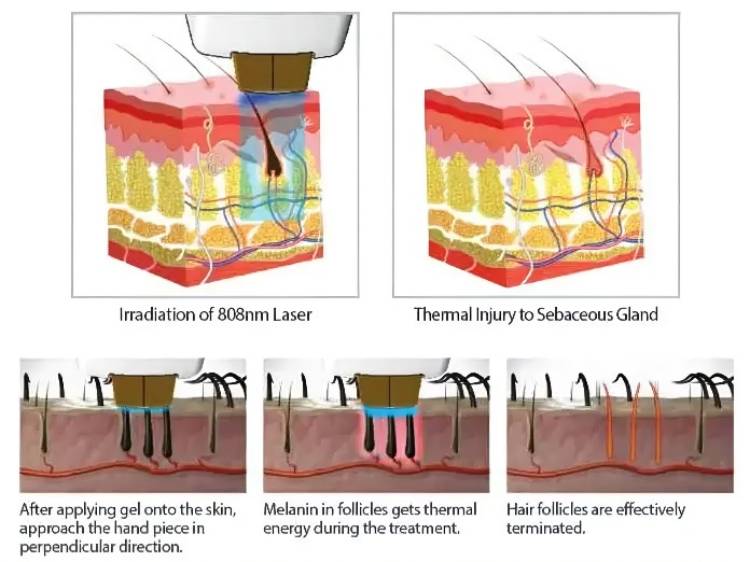 2) Nd Yag laser
The energy of Q-switched ND:YAG laser can be absorbed by the blue and black melanin.The melanin will be fragmented so small that they can be metabolized by the lymphatic system oregested out of the body. Thus the tattoo or other pigmentations will be removed without damage to normal tissue.The treatment is safe and convenient without downtime and side effects.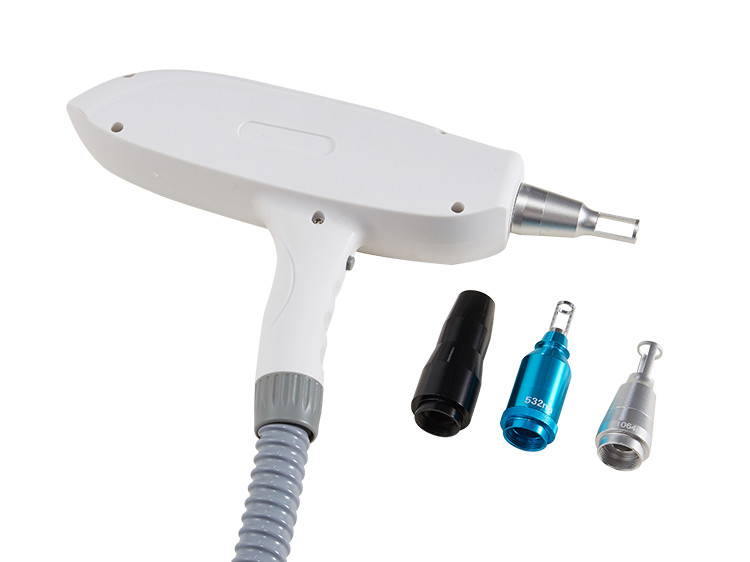 3) DPL technology
Professional 480nm, 530nm, 640nm wavelength effective penetration depth can reach the hair papilla, continuous light to ensure that the target tissue generates enough heat to inactivate the hair follicle and surrounding stem cells, hair follicle atrophy and hair stop growing; the latest single pulse technology and The sapphire contact type operating head enables the operation and cooling to be performed simultaneously, which not only has a good long-term effect on removing hair, but also protects normal skin tissue from damage. It acts on the entire dermis and connective tissue, stimulating collagen of different depths, and renewing Arrange and grow to achieve the therapeutic effect. The dual-stage radio frequency releases energy at the same time, and uses the selective absorption of light energy by the skin to cause various diseased tissues in the epidermis and dermis to produce a photopyrolysis effect. Because its requirements for light energy are far lower than traditional IPL, it can make the epidermis and dermis layers of various pigmented and vascular diseased tissues absorb more energy without damaging the epidermis, and better remove these diseased tissues , To achieve the therapeutic effect. Make customers feel more comfortable during operation.
1. 480nm~1200nm: Acne therapy: acne, freckle and facial blemish removal.
2. 530nm~1200nm: Pigment removal.
3. 640nm~1200nm: Permanent hair removal: armpit hair, beard, lip hair, hairline, bikini hair, body hair.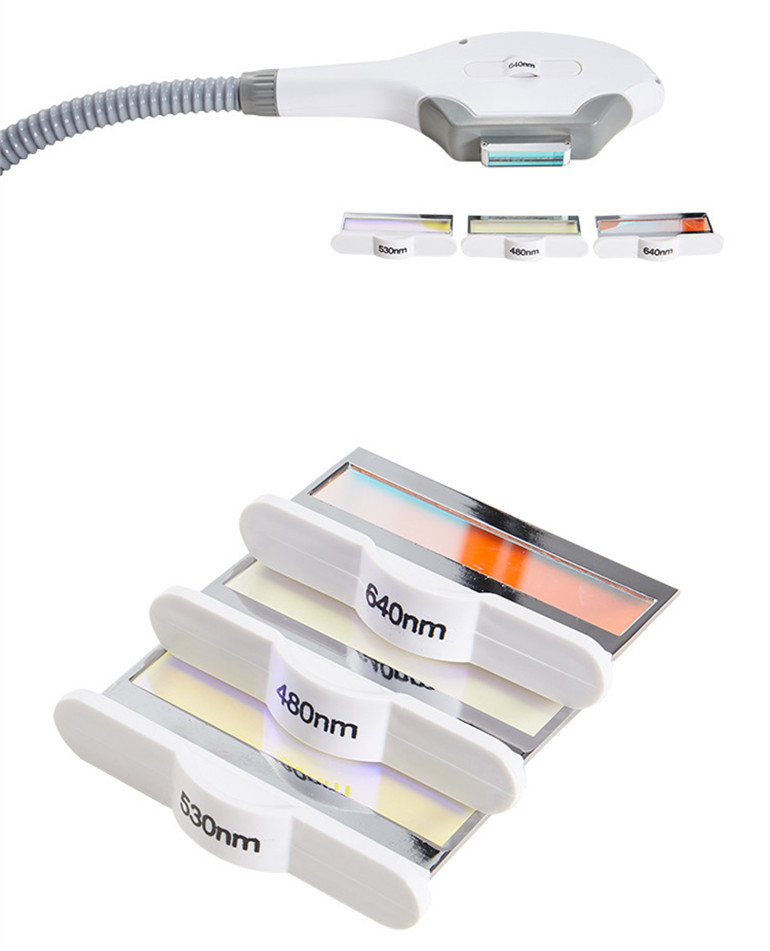 4) RF Technology
First, ensure that the skin is comfortable and not damaged, and then use radio frequency waves to generate thermal energy conduction to accurately reach the deep layer of the skin, stimulating the ions and charged colloidal particles in the body to move or vibrate quickly, and friction generates thermal energy. When the thermal energy of the deep skin collagen tissue reaches 45 At ℃-60℃, it will naturally produce immediate contraction, stimulate the secretion of more new collagen to fill the gaps of shrinking and lost collagen, and re-arrange it to rebuild the skin soft scaffold, and finally achieve firming of the skin and filling of wrinkles , Restore skin elasticity and luster.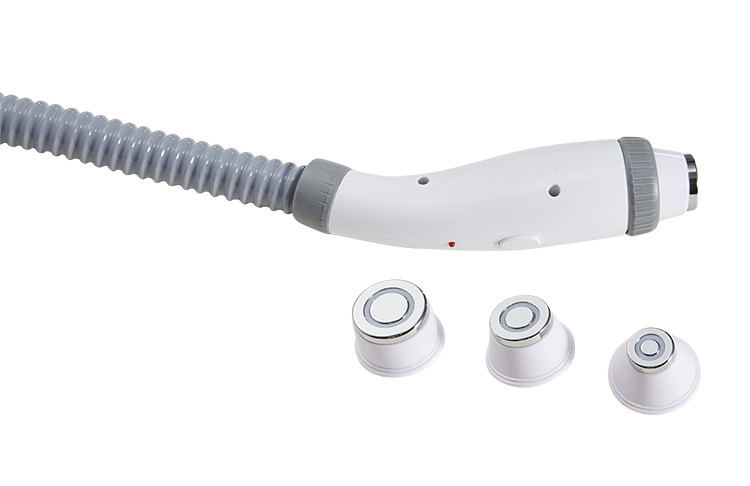 Contact Us
Contact: Annie
Phone: 0086-15902095923
Tel: 0086-15902095923
Add: Guangzhou City,China.