▲SHR/OPT/Elight/IPL/RF/ND YAG multifunction beauty machine
SW-280E 4 in 1 IPL OPT Elight Nd Yag LASER therapy Tattoo removal laser hair removal best salon beauty machine
IPL hair removal
ND yag laser tattoo removal
RF skin tightening
SHR hair removal
SW-280E 4 in 1 IPL OPT Elight Nd Yag LASER therapy Tattoo removal laser hair removal best salon beauty machine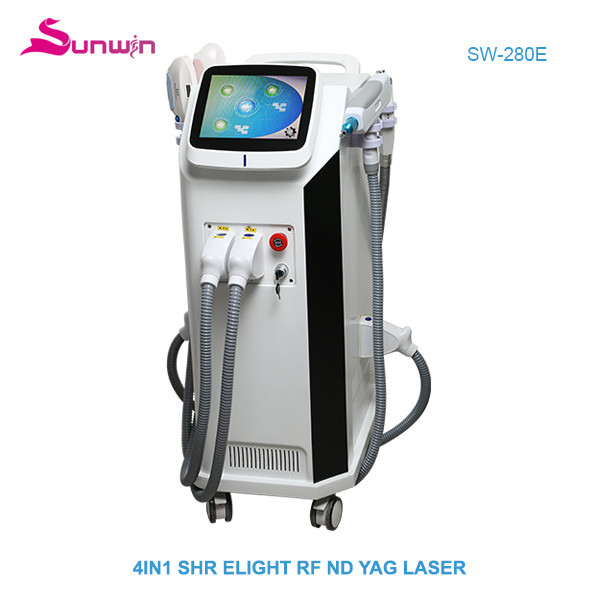 1-Product Introduction
Multifunctional Workstation is a comprehensive and efficient facial care system, which is
also a multifunctional beauty equipment having a collection of three top core technologies
in medical cosmetology,namely, IPL, RF and YAG laser. Combining a variety of powers
and giving full play to solar energy,bipolar RF and laser, it has a significant clinical effect
and has been proved to safely and effectively apply to different skin types and skin complexion.
2-Technological Advantages
Large vertical equipment, huge color touch screen, exalted and noble. Combining three technologies,intense pulsed light,radio frequency and laser, having more complete functions.Latest plug and play butt joint, separate water and electric design, more secure and easy to install. Perfect combine of large capacity stainless steel tank and industrial radiator,it provide water cycle cooling system which satisfies customers' continuous treatment demand.Nine operating languages suit to different colleagues in different countries.Water flow and temperate self- testing system and self-correcting system to guarantee safe operation.
3-Technical Principles
SHR technology:The effective depth penetration of 640nm-1200nm professional wavelength of hair removal can reach to papilla, and continuously shines to ensure the target tissues produce sufficient heat that makes hair follicles and stem cells around them lose activity until hair follicles atrophy and hairs stop growing; latest single pulse technique and sapphire contacting operation head making operation and cooling work simultaneously, not only have a good long-term effect in hair removal,but also protect normal skin tissues from harm and make customers feel more comfortable during the operation.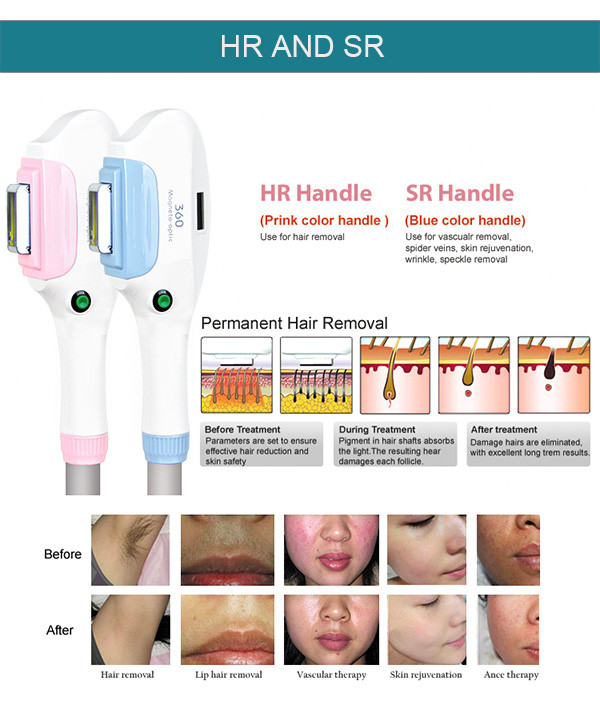 RF Technology-Radio frequency emitter is pressed up against the skin. These radio waves get past the outer skin layers and deliver heat energy to the muscles and tissues beneath. The heat helps to contract these layers and build up collagen levels. The overall result tightens up the outer layers of skin and reduces wrinkling effects. Since there's a lot of heat involved, some cooling must be applied to the skin at the same time.
YAG technology - on the basis of the theory that immediate and high-energy laser emission
can efficiently crushes the pigment of diseased tissues, YAG makes irradiated pigment particles absorb power and swell to crack.
Part of them splitting into more tiny nibs are excreted, and part of them are swallowed by body macrophage and excreted through lymphatic system,by which pigments are eliminated. Because normal tissue does not absorb the laser with fixed wavelength, thus the integrity of the cell framework is maintained without conditions that invoke scars form.
4-Range of application
Hair removal: permanent hair removal, hairs through whole body(hairs in growing period, including tiny hairs with light color
Freckle removing: removing freckles, chloasma, sunburn, age spots, acne marks and facial blemishe
Skin Rejuvenation: improving large pores, rough skin, tiny wrinkles, and restoring skin elasticity.
Wrinkle Reduction: removing real and false wrinkles. Facial and body anti-aging.
Telangiectasia treatment: redness, facial flush. Improving dull complexion to whiten and uniform skin Specifically eliminating red, brown, suntan and other colored tattoos. Effectively wiping out all kinds of eyebrow,embroider eyebrow, tattoos, eyeliner and lip liner.Treating pigmented skin lesions and mixed hyperpigmentation such as age spots,birthmarks, ota nevus,moles and so on.
5-Technical Parameters:
| | |
| --- | --- |
| Wavelength | 1064nm &532nm&1320nm(black doll) |
| Display | 8.0 inch touch screen |
| Handpiece | 2*IPL +1*RF +1*Nd yag laser |
| Spot size | 15*50mm / 12*35mm (optional ) |
| IPL energy | 0-50J /CM² |
| RF Energy | 0-20J /CM² |
| Laser Energy | 10-2000mj |
| Power | 2500W |
| Cooling condition | Emiconductor +air +water |
| Voltage input | 100-240VAC ,50/60HZ |
Contact Us
Contact: Annie
Phone: 0086-15902095923
Tel: 0086-15902095923
Add: Guangzhou City,China.