▲SHR/OPT/Elight/IPL/RF/ND YAG multifunction beauty machine
SW-868E DPL Hair Removal RF Nd Yag Laser Tattoo Removal Skin Rejuvenation multifunctional Beauty Machine
IPL hair removal
ND yag laser tattoo removal
RF skin tightening
SHR hair removal
SW-868E DPL Hair Removal RF Nd Yag Laser Tattoo Removal Skin Rejuvenation multifunctional Beauty Machine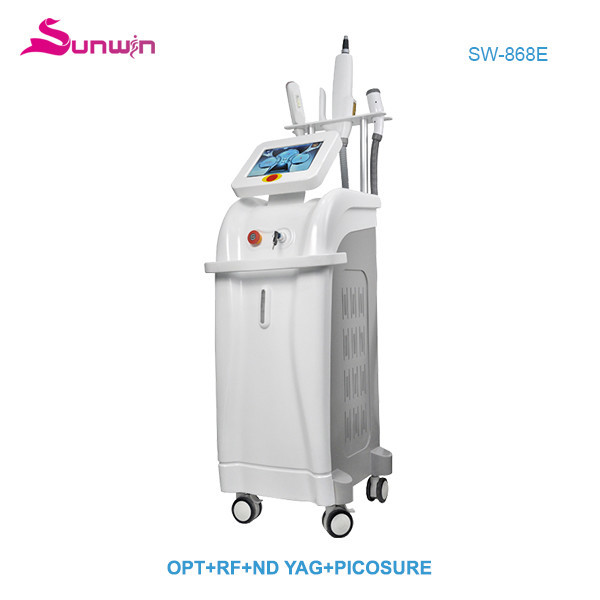 Technical Principles
Dye Pulse Light(DPL) is the world's latest generation of E-light technology, also known as narrow-spectrum light rejuvenation. Unlike the traditional photorejuvenation (IPL, Intense Pulse Light), it can emit a set precise wavelength of light controlled at a special wavelength of 100nm which can be effectively assimilated by melanin and hemoglobin to treat the diseased tissues, to quickly and effectively solve problems such as hair and facial spots, telangiectasia, which can make skin white and tender.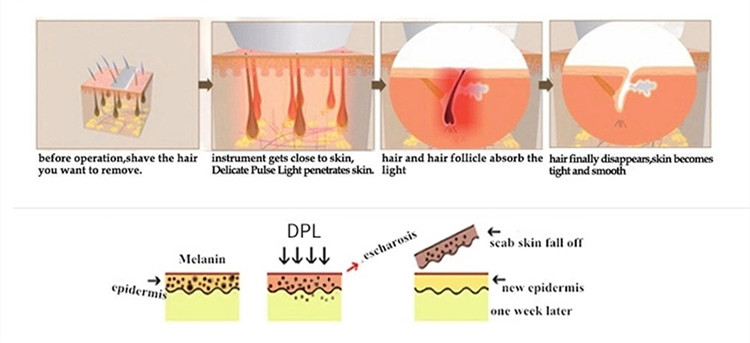 RF technology -- first ensuring your skin is comfortable and off damage and then taking advantage of
RF waves to generate heat conduction, RF accurately reaches to skin's deep layer, stimulates the ions and charged colloidal particles in body rapidly move or vibrate. Friction generating heat, skin will naturally come to an immediate contraction when collagenous tissues in skin's deep layer reach to 45℃-60℃, then stimulates to secrete new collagen to rearrange and fill the gap of atrophic and lost of collagen, rebuilds the soft stent of skin, and finally achieve skin tightness, wrinkles filling and skin elasticity and gloss regaining.
YAG technology - on the basis of the theory that immediate and high-energy laser emission can efficiently crushes the pigment of diseased tissues, YAG makes irradiated pigment particles absorb power and swell to crack. Part of them splitting into more tiny nibs are excreted, and part of them are swallowed by body macrophage and excreted through lymphatic system, by which pigments are eliminated. Because normal
tissue does not absorb the laser with fixed wavelength, thus the integrity of the cell framework is maintained without conditions that invoke scars form.
Range of application
Hair removal: permanent hair removal, hairs through whole body(hairs in growing period, including tiny hairs with light color
Freckle removing: removing freckles, chloasma, sunburn, age spots, acne marks and facial blemishes
Skin Rejuvenation: improving large pores, rough skin, tiny wrinkles, and restoring skin elasticity.
Wrinkle Reduction: removing real and false wrinkles. Facial and body anti-aging.
Telangiectasia treatment: redness, facial flush.
Improving dull complexion to whiten and uniform skin
Specifically eliminating red, brown, suntan and other colored tattoos.
Effectively wiping out all kinds of eyebrow, embroider eyebrow, tattoos, eyeliner and lip liner.Treating pigmented skin lesions and mixed hyperpigmentation such as age spots, birthmarks, ota nevus, moles and so on.
Contact Us
Contact: Annie
Phone: 0086-15902095923
Tel: 0086-15902095923
Add: Guangzhou City,China.