▲SHR/OPT/Elight/IPL/RF/ND YAG multifunction beauty machine
SW-1616E Multifunction 3 in 1 IPL OPT Elight PICO LASER tattoo removal hair reduction beauty clinic salon beauty machine
IPL hair removal
Pico laser tattoo removal
RF skin tightening
SHR hair removal
SW-1616E Multifunction 3 in 1 IPL OPT Elight PICO LASER tattoo removal hair reduction beauty clinic salon beauty machine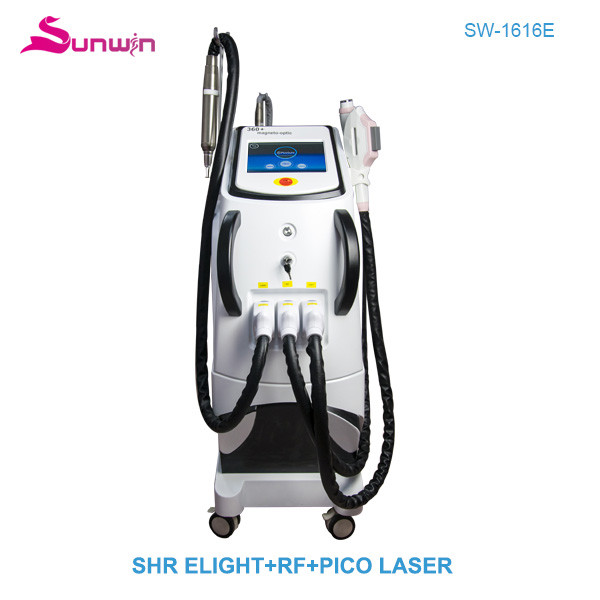 Product Introduction
Multifunctional Workstation is a comprehensive and efficient facial care system, which is
also a multifunctional beauty equipment having a collection of three top core technologies
in medical cosmetology,namely, IPL, RF and YAG laser. Combining a variety of powers
and giving full play to solar energy,bipolar RF and laser, it has a significant clinical effect
and has been proved to safely and effectively apply to different skin types and skin complexion.
Application of Pico Laser
1.Remove Chloasma, coffee spots, freckle, sunburn, age spots, nevus of ota, etc.
2.Removing all kinds of tattoos, specialized in removing red capillary, coffee, brown, black, cyan and other colorized tattoos.
3.Remove mole, birthmark,brown blue nevus,junctional nevus,etc.
4.Skin whitening, fine lines removal. Acne scar therapy,etc.
5.Remove the pigment skin pathological changes, the pigmentation caused by color pigment mixture, Pore remove,Face lift.
6.Effectively remove all kinds of embroider eyebrow, soak lip, eye line, and lip line.
Application of OPT &SHR IPL
1. Permanent hair removal.
2. Pigmentations treatment (Spots removal,smallpox removal,freckle removal).
3. Skin rejuvenation (Tighten skin,fine wrinkles removal,whiten skin).
4. Acne Treatment.
5. Vascular Therapy.
Application of RF
RF rejuvenation system uses its unique adjustable technology could effectively control the exchange of the polarity and set up the best frequency. Because the skin tissue has natural defense to the electrode change, it will result in heating the collagen. The collagen will change its nature, collagen link shrinks and the further effect is starting up the inflammation which includes the rebirth of the original fiber cell and the reconstruction of the collagen. It will make the skin as tight, smooth, and tender as possible! So you will reach your goal of lifting and wrinkle-removal.
1. Face and Neck Lifting & Remodelling
2. Tightening and lifting flaccid areas of the face
3. Reduces Wrinkles
4. Lift Sagging Skin
5. Enhances luminosity of the skin
6. Body Remodelling
7. Cellulite Treatment and skin partial reconstruction
8. Increase Collagen Level
9. Tighten loose skin
Technical Parameters:
| | |
| --- | --- |
| Wavelength | 755&1064nm &532nm |
| Display | 10.0 inch touch screen |
| Handpiece | 1*SHR +1*RF +1*pico laser |
| Spot size | 15*50mm / 12*35mm (optional ) |
| IPL energy | 0-50J /CM² |
| RF Energy | 0-20J /CM² |
| Laser Energy | 10-2000mj |
| Power | 2500W |
| Cooling condition | Emiconductor +air +water |
| Voltage input | 100-240VAC ,50/60HZ |
Contact Us
Contact: Annie
Phone: 0086-15902095923
Tel: 0086-15902095923
Add: Guangzhou City,China.