▲Picosure Laser/ Q-Switch Laser System
SW-K755 Portable Q Switched Nd Yag Laser Tattoo Removal Machine
picosecond laser
Nd Yag Laser
cynosure
1064nm/532nm/1320nm
SW-K755 Portable Q Switched Nd Yag Laser Tattoo Removal Machine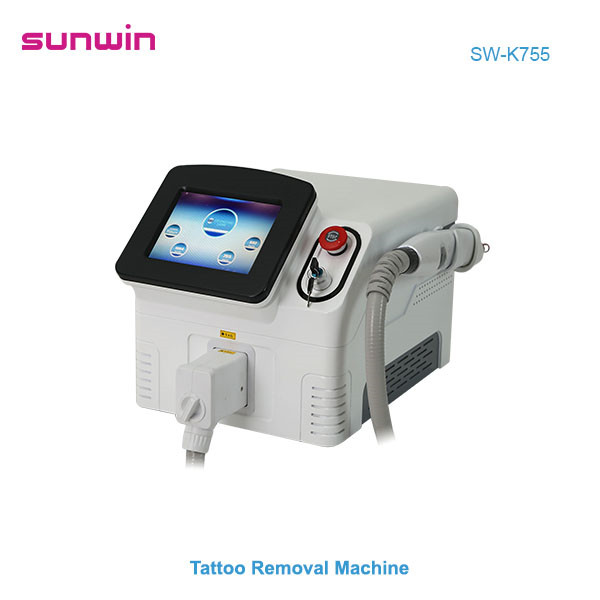 Q-Switched Nd: YAG adopts the latest Q-switched model, makes the cure time of laser to be smallest, avoiding damage to the skin. And the skin tissue absorbs the high energy of the certain laser wavelength in instant, then expands and explodes to tiny thing easily. Then licked up by the cell and be got out of the body.
Wavelength Funtions
1.532nm wavelength:
Remove freckles, eyebrow tattoo, eye line tattoo, body tattoo, lips line, pigment, telangiectasia in shallow red, brown and pink and etc. light color.
2.1064nm wavelength:
Remove freckles and yellow brown spot, eyebrow tattoo, eye line tattoo, body tattoo, Birthmark and Nevus of Ota, pigmentation and age spot, nevus in black and blue, scarlet red, deep coffee and etc. deep color.
3.1320nm wavelength: (Black doll / Carbon Mask)
Shrink pores removal, poblackhead removal, skin tightening and whitening, skin rejuvenation, wrinkle removal.
4.Multifunction Head:
Skin rejuvenation(no need carbon mark, no need cooling gel)
Q swithced nd yag laser Advantages
1. Q Switched ND: YAG laser with more powerful pulse energy, ensuring moreefficient
pigments removal.
2. Airout pole- Airout pole, can help water circle very well, can protect handle form destroy.
3. Emergency button-If come any thing Emergency,you can press the red emergency button,then the machine can not work any more.
4. High energy,no side effects,non-invasive,safe,easy to operation, portable
5. Multi-language system,LCD display.
6. It won't destroy hair follicle, or injure ordinary skin.
Q swithced nd yag laser Applications
1) Removal of eyebrow line, eye line, lip line...etc
2) Removal of tattoo(red, blue, black...etc)
3) Clearance speckle, black naevus, fleck, age spots...etc
4) Removal of vascular lesion and spider vessel...etc
Contact Us
Contact: Annie
Phone: 0086-15902095923
Tel: 0086-15902095923
Add: Guangzhou City,China.