▲SHR/OPT/Elight/IPL/RF/ND YAG multifunction beauty machine
SW-2018E DPL Hair Removal Dye Pulse Light + Nd Yag Laser Tattoo Removal Multifunctional Beauty Equipment
IPL hair removal
DPL hair removal
skin rejuvenation
SHR hair removal
SW-2018E DPL Hair Removal Dye Pulse Light + Nd Yag Laser Tattoo Removal Multifunctional Beauty Equipment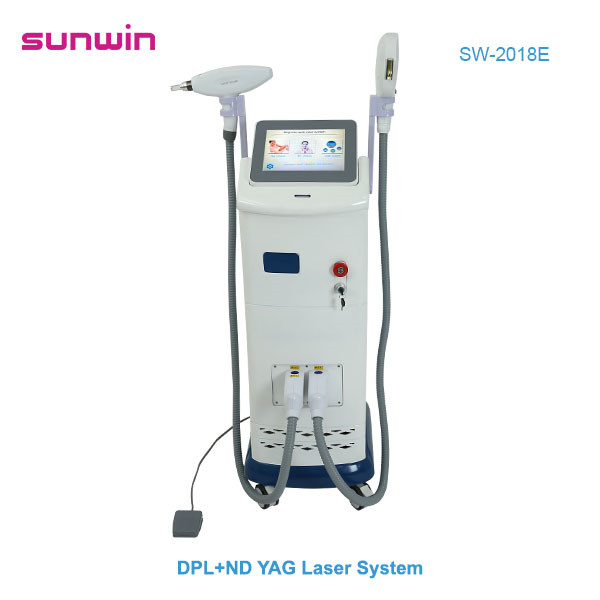 Technical Principles
Dye Pulse Light(DPL) is the world's latest generation of E-light technology, also known as narrow-spectrum light rejuvenation. Unlike the traditional photorejuvenation (IPL, Intense Pulse Light), it can emit a set precise wavelength of light controlled at a special wavelength of 100nm which can be effectively assimilated by melanin and hemoglobin to treat the diseased tissues, to quickly and effectively solve problems such as hair and facial spots, telangiectasia, which can make skin white and tender.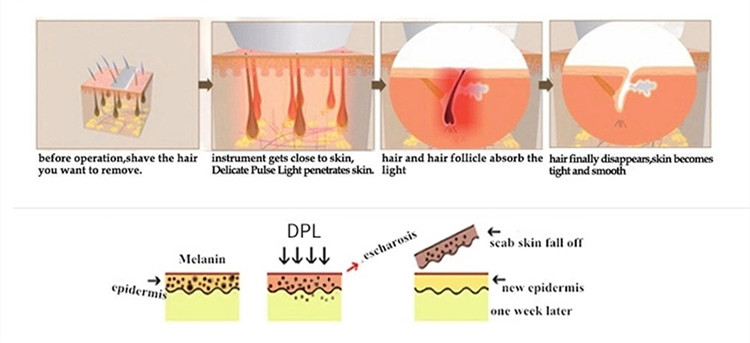 ♦ND YAG Laser takes specific wavelengths light in high energy, which are absorbed by the pigment and shatters the pigment into particles, breaking them into very small fragments , some parts will
consequently bounce out of the skin and the other parts will spilt even further into minute particles; which eventually will be engulfed by the phagocytes and ultimately gets eliminated by the lymphatic system.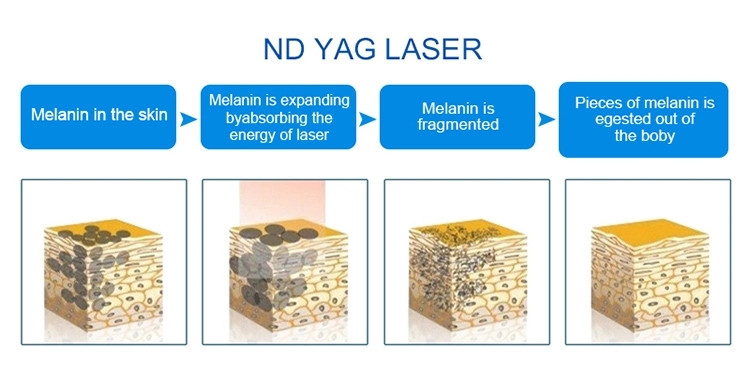 Application Of DPL
1. Pain-free hair removal, permanent removal of excess body hair(skin type I-VI)
2. Skin rejuvenation: prose minimizing , remove wrinkle, brighten skin tone
3. Red blood removal: congenital red blood, red blood after skin resurfacing, flush, red mark of acne, etc.
4. Freckle removal: freckles, sunburn,, epidermis patch, etc.
5. Acne removal: acne, red acne mark.
Application Of Nd Yag Laser
1. All sorts of color tattoo removal.
2. Pigmentary skin lesions and mixed pigmentation, dermal spots, freckles, moles, rosacea, nevus of Ota.
3. Effectively remove tattoos of embroider eyebrow, eye line, soak lip and lip line.
4. Black facedoll treatment (1320nm laser and carbon powder)
Attention: 1064nm laser is used for black, blue pigmentation. 532nm laser is used to remove red, coffee, brown pigmentation
Features
1. More faster & quicker flashing, suitable for all skin types, permanent painless hair removal.
2. Accurate wavelength and efficient energy of DPL, hair removal, skin rejuvenation, long and effective result of pigmentation and vascular lesions removal.
3. Easy to operate, short treatment time, 30 minutes for each time.
4. No surgery, no anesthesia, no side effect, no downtime.
Contact Us
Contact: Annie
Phone: 0086-15902095923
Tel: 0086-15902095923
Add: Guangzhou City,China.