▲Fractional CO2 laser/Vaginal tightening machine
SW-E20 Portable laser co2 fractional machine for skin rejuvenation vaginal tightening
Scar removal
Vaginal tightening
Skin rejuvenation
Stretch mark removal
SW-E20 Portable laser co2 fractional machine for skin rejuvenation vaginal tightening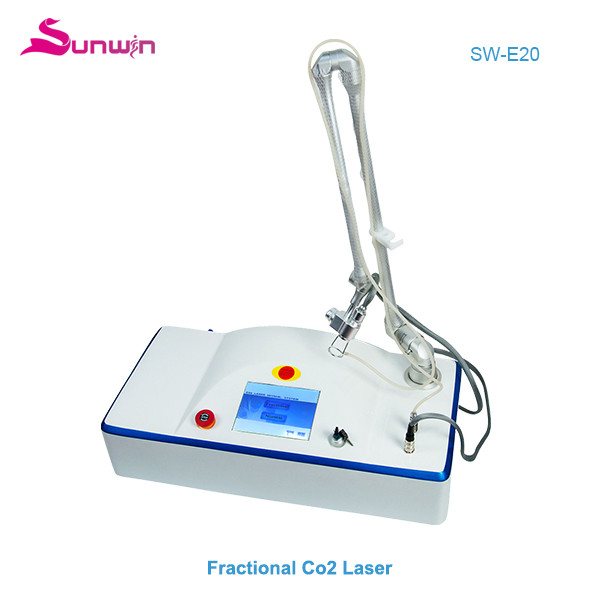 Fractional CO2 Laser System is a brand new laser rejuvenation technology. It fires a laser beam which is then split into numbers of microscopic beams, producing tiny dot to peel skin and penetrate the laser beam into the corium.
The adjustable Fractional CO2 Laser System fires a laser beam which is split into numbers of microscopic beams, producing tiny dot or fractional damaged area. This allows the skin to heal much faster than if the whole area was treated.
During the skin self-resurfacing, a great amount of collagen is produced for skin rejuvenation, eventually the skin will look much healthier and younger.
1.Working Theory:
Vaginal tightening laser is the use of water uptake 10600nm gold standard laser,using a three-dimensional lattice technology and 360-degree circular emission perfect combination of technology, to produce 50-70 degrees Celsius in a controlled depth of the vaginal mucosa, stimulate lamina propria and myometrium newborn fibroblasts, and damaged collagen fibers, elastic fibers, such as restructuring, so as to achieve vaginal wall thickening and tightening of the vagina so that firmness, sensitivity enhancement, vagina tight as ever. Vaginal tightening laser does not produce skin burns due to high temperature, each capable of Homogeneous heat, acting on a few hundred nanometers thickness Mucosa organization.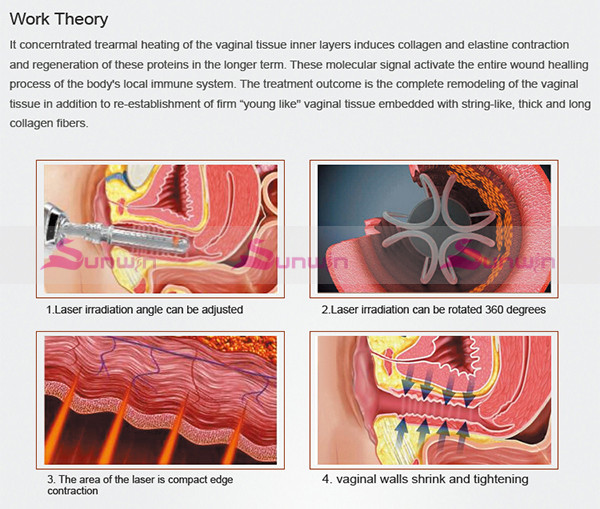 2. Application
Thermal radiation make Mucosa tissue contraction and collagen fibers thereby improving and restructuring vaginal tightening.
1. Shrink vagina: rapid tightening, constriction, lasting firmness.
2. Beautify vagina: dilute pigment, pink labia.
3. Moist vagina: increase secretion, eliminate dryness.
4. Maintenance vagina: deep rejuvenation, prevent aging.
5. To improve sensitivity.
6. Private health, balance PH, improve the internal environment.
Fractional therapy introduction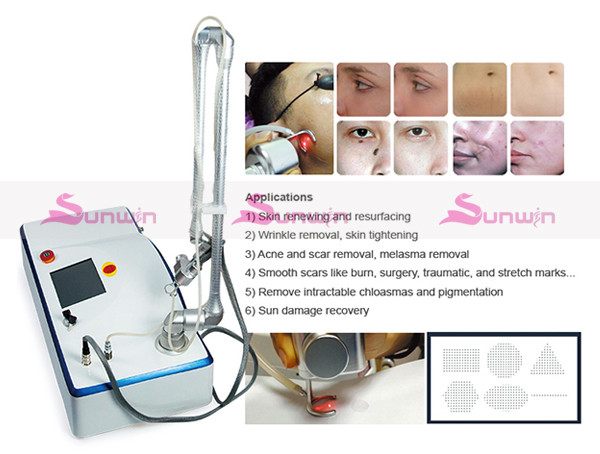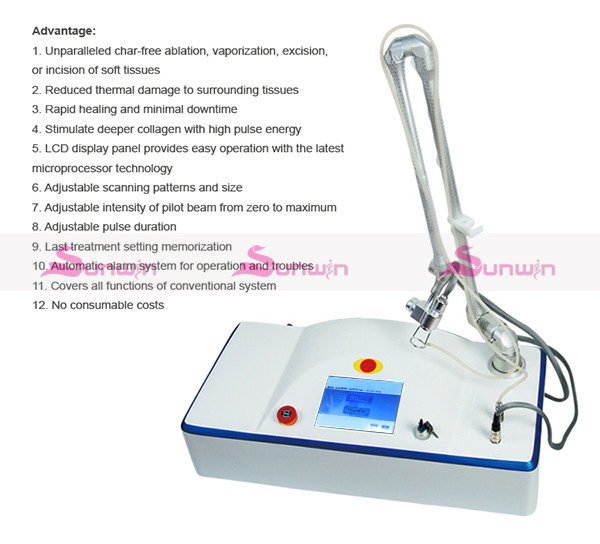 Specification
| | |
| --- | --- |
| Name | Portable Fractional CO2 laser |
| Display | 8 inches touch screen |
| Voltage | 110-240V, 50/60Hz |
| Light power | 15-30W |
| Wavelength | 10600nm |
| 3 Systems | Surgical Cutting, Fractional, Vaginal treatment |
| Treatment heads | 5pcs (Fracttional, Normal co2 laser, 3pcs Vaginal heads) |
| Cutting head(50mm/100mm) | 2+4 |
| Vagina Tightening Laser protective jacket | Titanium alloy protective jacket*2 |
| Output | Single point, Continuous, super pulse, dot matrix |
| Output figure | Square,Triangle, Hexagon, Circle, Oval, Rectangle |
| Figure square | 0.1*0.1mm-20*20mm (Adjustable) |
| Dot distance | 0.1-2.6mm (Adjustable) |
| Pulses energy | 0.1-180mj (Adjustable) |
| Focal spot diameter | 100-2000um |
| Focal spot quantity | 1(1*1)-40000(200*200) (Adjustable) |
| The way of luminous | 360 angle pyramidal reflex and 45 angle Slant reflex |
| CPG Scanning | Yes |
| CPG scan motor | USA import |
| Scanning mode | in order, disorder, midsplit |
| Cooling system | Air + Water Cooling |
Contact Us
Contact: Annie
Phone: 0086-15902095923
Tel: 0086-15902095923
Add: Guangzhou City,China.