▲SHR/OPT/Elight/IPL/RF/ND YAG multifunction beauty machine
SW-217E IPL Elight SHR RF hair removal skin lifting multifunctional machine
IPL hair removal
skin rejuvenation
RF skin tightening
SHR hair removal
SW-217E IPL Elight SHR RF hair removal skin lifting multifunctional machine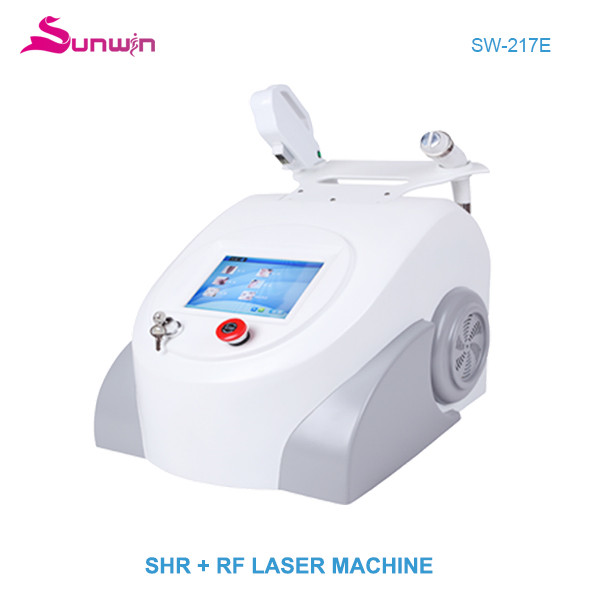 E light(IPL+RF) Principle
E-light is the most mature technology of hair removal and wrinkle removal now, and the most advanced multifunctional photo-electrical machine for skin rejuvenation and speckle removal. E-light combines three advanced technologies: Bipolar Radio Frequency + IPL +Skin Contact Cooling, which produces perfect treatment experience and results.
IPL has very good capability of selectivity and only pigment absorbs the energy of IPL, while RF energy is not concerned with pigment. The energy of Radio Frequency can reach the middle and deep layer of the skin and heat up tissue, thus, lower energy is applied during the IPL treatment. Uncomfortable feeling during the IPL treatment will be decreased significantly and better result can be expected. In addition, cooling system involved in E-light can also ease the uncomfortable feeling.
In addition, RF stimulates rebirth of collagenous fiber and repair of elastic fibers. So RF can remove fine wrinkle, improve all kinds of wrinkles and tighten skin.
E-light(IPL+RF) Treatment Range
1. Hair Removalligh
2. Wrinkle Removal.t(IP
3. Skin RejuvenationL+RF)
4. Pigmentation TherapyTreatm
5. Pore Refiningent Ran
6. Acne Removalge
7. Vascular Removal
RF system
The RF equipment has the cooling system of surface layer, and uses proprietary technology
to deliver radiofrequency energy to the deep layers of the skin and its underlying tissue. The
heat will accelerate the blood circle, lets the fibre structure shrink instantaneously, and
stimulates the renewal of collagen. In response, the collagen shrinks and remodels over time,
providing you with tighter skin, renewed facial contours.
- Face and Neck Lifting & Remodelling
- Tightening and lifting flaccid areas of the face
- Reduces Wrinkles
- Lift Sagging Skin
- Enhances luminosity of the skin
- Fat Reduction
- Body Remodelling
- Cellulite Treatment and skin partial reconstruction
- Increase Collagen Level
- Tighten loose skin
Contact Us
Contact: Annie
Phone: 0086-15902095923
Tel: 0086-15902095923
Add: Guangzhou City,China.