▲PDT/LED Skin Care System
SW-12P 7 Colors LED Light Facial Neck Mask Skin Rejuvenation Face Care Treatment Beauty Anti Acne Therapy Facial Whitening
Skin rejuvenation
PDT LED therapy
acne removal
Skin whitening
SW-12P 7 Colors LED Light Facial Neck Mask Skin Rejuvenation Face Care Treatment Beauty Anti Acne Therapy Facial Whitening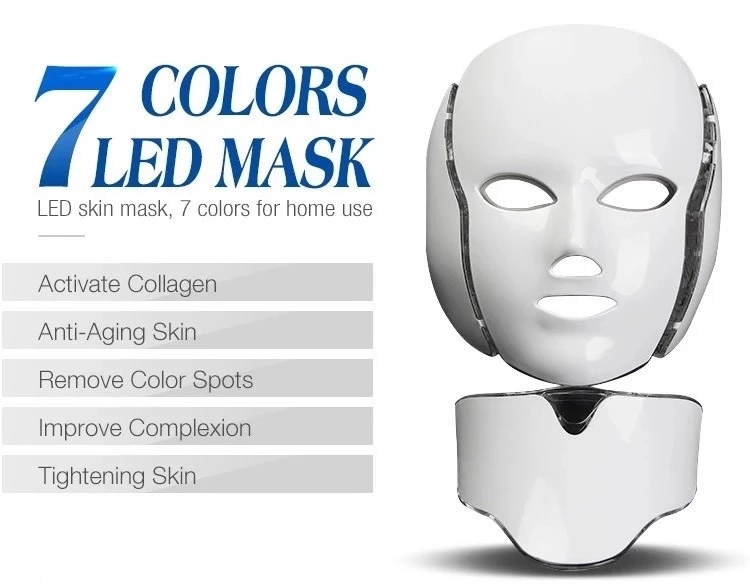 How does PDT light work?
Photodynamic Therapy(PDT) a skin treatment based on medical theory. It utilizes an LED light source in combination with a photosensitive cosmetic or medicine to treat various of skin problems such as acne, rosacea, redness, papules, bumps, pustule.Besides, the LED photodynamictherapy(PDT), as a new method of cosmetic technology,has been frequently used for skin care purpose. The photon energy has positive effects on skin cells. It accelerates the cell growth, improve collagen and elastin generation,promote the microblood circulation and improve the overall skin condition.Skin problems to settle: aging, sagging, fine lines, wrinkles, enlarged pores, pigmentation freckle,sunburn, acne inflammation, gloomy.
7 Color LED Mask
Red light: 630nm, Stimulate collagen reproduction, remove fine line and shrink pores.
Blue light: 470nm, Kill the porphyrins in the bacteria, reduce acne.
Green light: 520nm, balance the pigment, reduce fine lines, promote wound healing.
Yellow light: 590nm, improve the exchange of the oxygen in cells, promote lymphatic drainage, improve rough skin.
Purple light:(red+blue) , reparing the acne.
Clear blue light: enhance cell metabolism facilitating.
Infrared: white, penetrate the skin deeply, accelerate the tissue metabolism.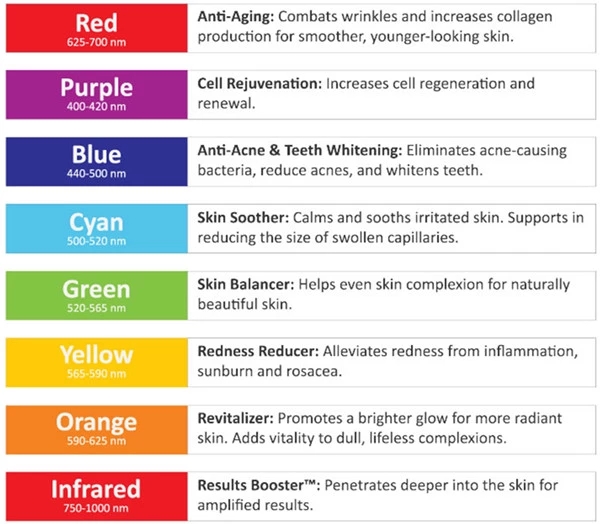 During the Treatment:
During the treatment your skin may feel slightly warm, and you will see coloured light emitted by the mask. This is not damaging to your eyesight.
You may feel slight tingling if you are having treatment in the galvanic mode.

After the Treatment:
There is a very small chance your skin may be slightly pink for up to an hour after treatment.
The low risk of side effects makes this a perfect lunch time treatment.
Advantages:
a. Easy to operate with full touch screen (3 programs included);
d. Non invasive treatment and totally safe;
e. Frequency adjustable on the screen to re-adjust the handle;
f. Electric stimulation treatment Included;
g. Our LED Phototherapy Mask treatment is painless, affordable and suitable for all skin types !
By using different wavelengths of light we can treat different skin conditions, and by using light therapy that absorbs into the skin at varying depths, this treatment improves skin tone, clarity and radiance.
Contact Us
Contact: Annie
Phone: 0086-15902095923
Tel: 0086-15902095923
Add: Guangzhou City,China.