▲HIFU SMAS Face Body Vaginal System/Vmax/Lipohifu/Ultrashape System
SW-B335 3 in 1 4D Hifu Vmax face lift body slimming system and RF fractional microneede skin rejuvenation
3d hifu face lifting
rf fractional micro needle
rf skin tightening
rf radio frequency
SW-B335 3 in 1 4D Hifu Vmax face lift body slimming system and RF fractional microneede skin rejuvenation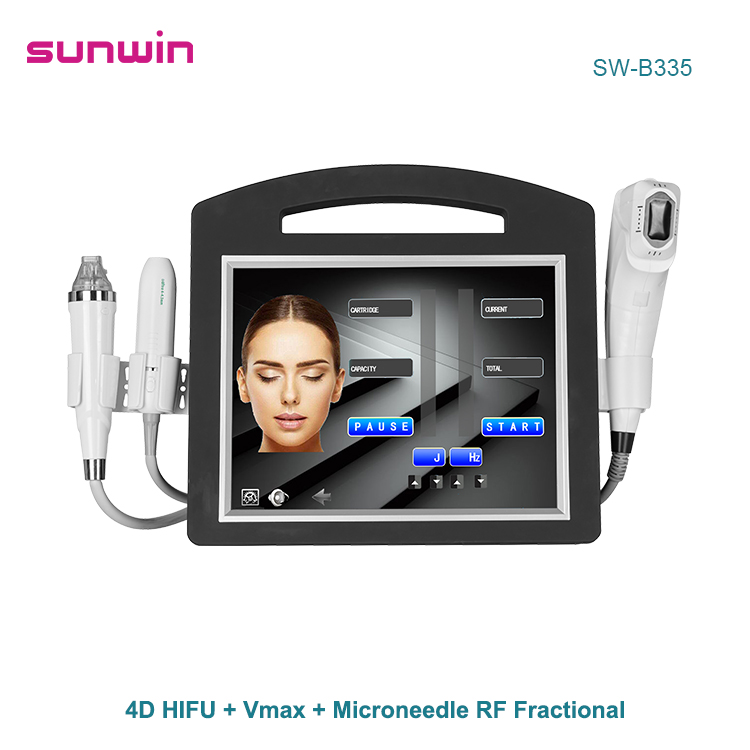 Micro-Needle Fractional RF
Fractional RF needle system through the special design of many fractional needle point array, the high speed digital motor controls order through the epidermis and the dermis accurate to control the depth of 0.25-3 mm,again by the end of lattice needle release RF,stimulate collagen and elastic tissue,and is not themal damage skin layer potentical.When skin tissues through this process,the epidermal layer is safe,RF energy can well to penetrate to the dermis,stimulate collagen protein hyperplasia,not only is the best way to improve the scars,but also long-term tightening skin wrinkles induced the good method.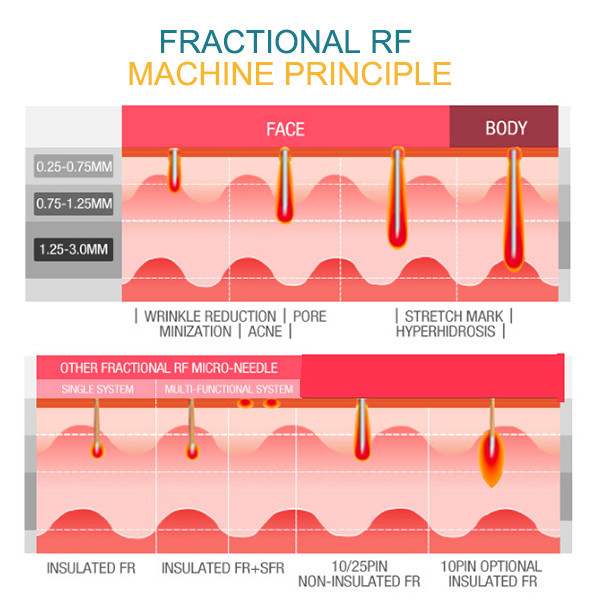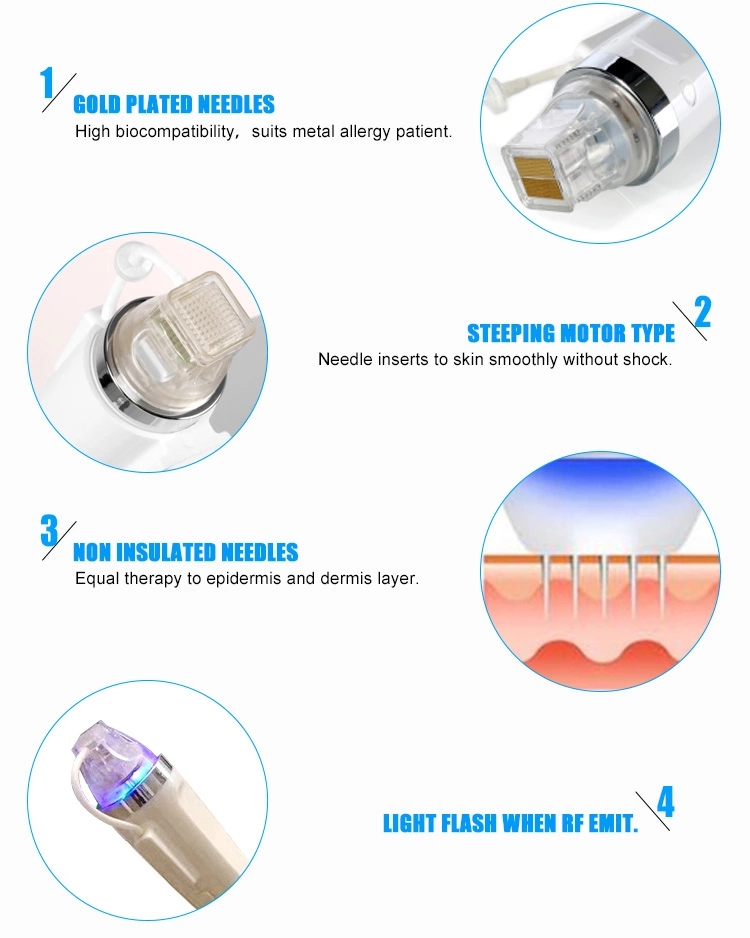 1. On the face: Sagging skin, Loose jowls, Lack of definition in the jaw line,Sagging neck skin, Wrinkles and fine lines, Lack of definition in the lips
2. Around the eyes: Under eye bags, Hooding, Rough texture on the eyelids,Wrinkles and fine lines
3. For the body: Sagging or bulging skin, Loose Skin, The appearance of cellulite ractional RF microneedle facial beauty machine is a best choice for woman to improve skin, because it can remove all kinds of wrinkles, even for sagging skin.
4D HIFU Skin Tightening
What is 4D HIFU?
4D is the meaning of the three dimensions, this 4D refers to the development of technology in three dimensions of innovation.
The number of rows is multi-dimensional, the traditional HIFU shot once only can get 1 line, so it will be a little toublesome to do body weight loss. But 4D HIFU can be freely adjusted from 1-12 lines.Treatment of parts and regions are multi-dimensional: facial wrinkles, chest pulling,body weight loss.
Adjustable parameters are multidimensional: the distance between points and points, the distance between rows and rows. The energy of each point. The length of each line. These can be adjusted. Treatment is more precise and free.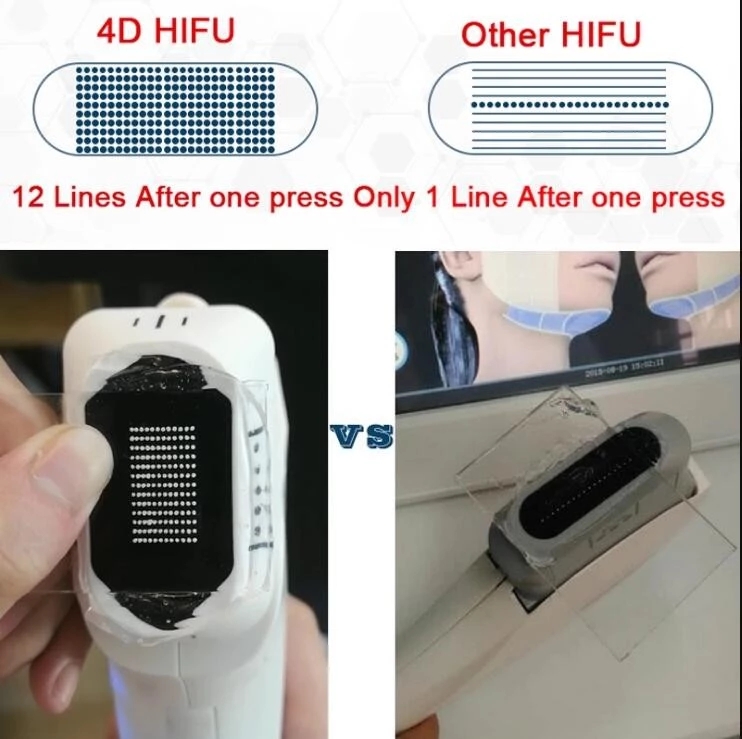 SKIN TIGHTENING
High Intensity Focused Ultrasound (HIFU) directly delivers heat energy to skin and subcutaneous tissue that can stimulate and renew the skin's collagen and thus consequently improving the texture and reducing sagging of the skin. It literally achieves the results of a facelift or a body lifts without any invasive surgery or injections, moreover, an added bonus of this procedure is that there is no downtime.
This technique can be applied to the face as well as the whole body, and also, it works equally well for people of all skin colours, in contrast to that of lasers and the intense pulse lights.
BODY FAT REMOVAL
Apply high intensity focused ultrasound, generate focused energy and go deeoer into the cellulite to break cellulite. it is an invasive, impressive and long- last effective tratement to reduce fat, especially for abdomen and thigh.
High intensity focused ultrasound target at fat of 13mm(depth of penetration), heating up the fat tissue, combine with high energy and good penetration to resolve the fat, during the treatment, the triglyceride and fatty acid excrete by the process of metabolism, and the vessal and nurve will not be damaged.
Hifu Vmax Advantages
Because V-MAX HIFU focuses energy shortly and intensively on the target area while rubbing probe, it makes less pain than other HIFU brands
Various shot intensity, shot time and shot interval can be adjusted by user's purpose. As applying rubbing operation, reducing shot and interval time, operation time can be shorter than normal HIFU operation. These shorter operation time enables to do more operations and it helps to get good results rapidly.
V-MAX doesn't need maintenance cost which mostly made by cartridge changing. It reduces medical expense and increases competitiveness. And it helps to do additional treatment without big burden.
By adopting a probe-rubbing method which is not widely used in HIFU equipment, it is possible to perform detailed operation.
Water cooling system enables to give stable operation, though a long time working.
4D hifu:

3.0mm is for the dermis layer;

4.5mm is for the SMAS layer.

6.0mm/8mm/10mm13mm/16mm for body fat layer

Vmax hifu:
1.5,3.0,4.5mm is for face;
4.5mm is for breast.
8mm/13mm for body fat layer
Contact Us
Contact: Annie
Phone: 0086-15902095923
Tel: 0086-15902095923
Add: Guangzhou City,China.