Company News
4D HIFU -The latest tech for facial rejuvenation
Are you looking for a non-surgical treatment to tackle the signs of ageing?
Are you concerned about drooping jowls, prominent nose to mouth lines or a heavy brow, also the loose skin?
Non-surgical Skin Lifting is one of the most sought after procedures right now.The treatment using the latest 4D HIFU ultrasound technology could be the perfect treatment for you!
HIFU stands for high-intensity focused ultrasound which is rapidly gaining popularity due to its effectiveness in comparison to other non-invasive facelift treatments.The treatment is unique in its ability to penetrate beneath the surface of the skin, targeting the SMAS (superficial muscular aponeurotic system) layer.
At a depth of around 4.5mm, the SMAS is the same layer that is adjusted by surgeons during facelifts. Unlike surgery, however, HIFU is far more safe and affordable.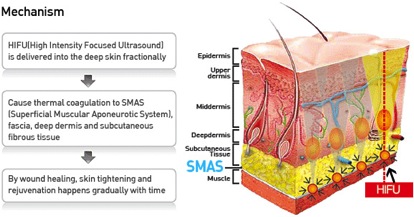 What is 4D HIFU?
4D HIFU is ultrasound energy distance of width, length and depth, which more Comprehensive, three-dimensional. Treatment of parts and regions are multi-dimensional, facial wrinkles, chest puling, body weight loss. Adjustable parameters are multidimensional, the distance between points to points, the distance between rows to rows. The energy of each point, the length of each line. these can be adjusted. Directly delivers heat energy to skin and subcutaneous tissue that can stimulate and renew the skin's collagen and thus consequently improving the texture and reducing sagging of the skin.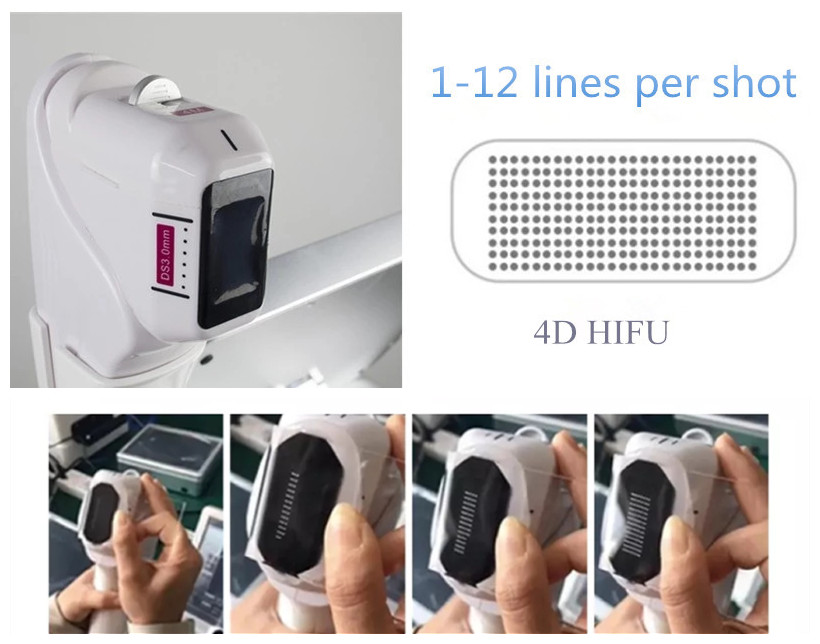 What is the difference between the traditional hifu and 4d hifu?
The biggest difference between traditional HIFU and 4D HIFU is that the traditional machine only allows for 1 line of ultrasonic heat to be applied per shot, so it will be a little trouble some to do body weight loss, whereas 4D HIFU can be adjusted between 1-12 lines. Treatment of parts and regions are multi-dimensional, The size of the individual points of energy, the length of the lines, and the space between lines can also be adjusted to best suit the area of treatment in 4D HIFU.Means the treatment is more precise and free, this makes it much more efficient andeffective than traditional HIFU. Non-surgical skin lifting has become one ofthe most sought after treatments.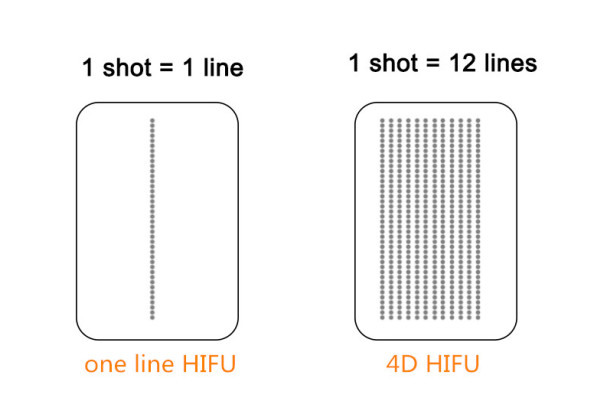 FAQS:
1. Is it a safe treatment?
The HIFU procedure has been used safely in over 450,000 treatments worldwide. Ultrasound energy itself has been used safely in the medical field for the 50 years.
2. How does 4D HIFU feel like?
You may experience slight discomfort during an HIFU procedure. Some clients describe it as tiny electric pulses or a light prickly sensation. If you are worried about pain, we may suggest taing acetaminophen or a nonsteroidal anti inflammatory drug, such as ibuprofen,prior to treatment. Immediately after the treatment, you may experience mild redness or swelling, which will gradually recede over the next few hours.
3.How long will the treatment take?
The length of the treatment will depend on the area being treated and your individual treatment plan. The face and neck procedure typically takes between 60 to 120 minutes, while a chest treatment on its own may take approximately up to 60 minutes.
4.Will I need to take time off work after the treatment?
With a single HIFU treatment there is no down time. After your procedure, you can resume your normal activities immediately, without having to follow any special post treatment measures. We even have clients come in during their lunch break to have the treatment. No cream is required and a general skin care plan and make up can be applied as normal.
5.How many treatment sessions are recommended?
Many clients only need one HIFU treatment. However, based on the degree of skin laxity, the biological response to ultrasound energy and the clients collagen-building process, some clients benefit from additional treatment after 4 weeks.
Results from HIFU treatment can be seen within 1 – 4 months, with further results being reported for up to 6 months after the initial procedure. Clients who have undergone HIFU treatment can benefit from long lasting results in excess of 2 years*. Although, as the skin continues to age, future touch-up treatments may be taken by the client yearly, this can help clients keep pace with the body's natural ageing process.
6.What will I experience during treatment?
A handpiece will be placed on the skin, this is the handpiece used to target focussed energy to the fat cells. The handpiece is placed on the area of treatment and held there for approximately two minutes, this will then be repeated three times per treatment area. During treatment, and in some places, it may get slightly hot and uncomfortable. You may also feel a slight vibration and tingling sensation, although this is completely normal.
HIFU treatment operation steps:
1.Clean the Skin.
2.Take a photo before treatment , and paint on the preoperative lifting location with make - up pencil .
3.According to the skin thickness to select appropriated transducer (Tranmitter) .
4.Set suitable input intensity ( such as1.0-1.5J ) , focal length and spacing ( such as 1.5mm)
5.Applying ultrasonic plentiful gel as couplant between transducer and skin.
6.face lifting operate on the note of power line, forming a line thermal condensed node in the specified depth under skin when the transmitting button is pressed per time,operating continued on the powder line until the specified location transmission is completed. The treatment parts such as face, chin and both sides of neck.
7.don't operate on marginal mandibular nerve and supra or bital nerve.
8.no recovery period after treatment,daub some moisture product and make up immediately.
9.only once, the comprehensive effect will gradually appear in two or three moths,Some people may do this treatments several times.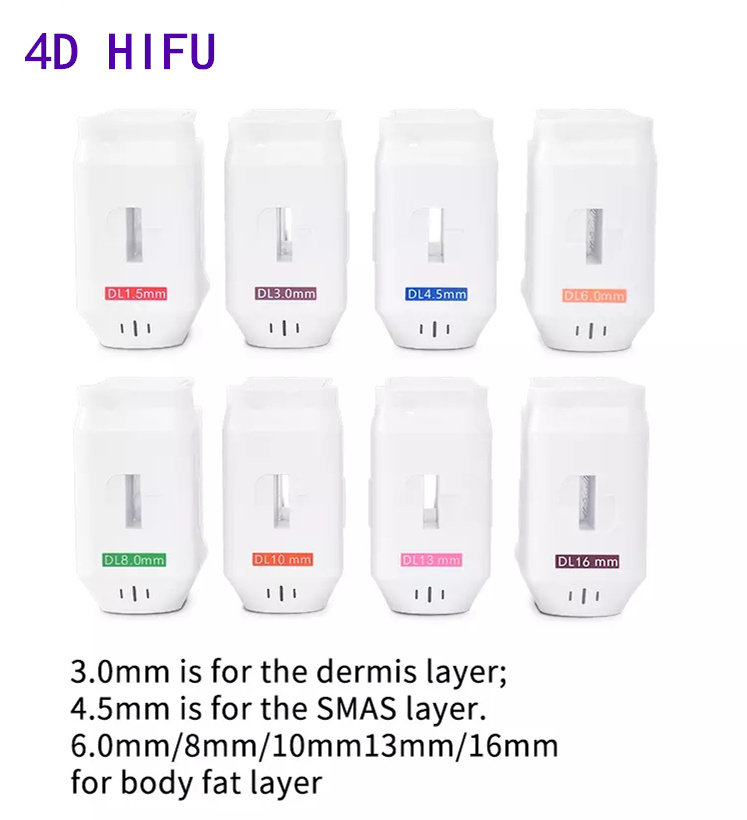 | | |
| --- | --- |
| HIFU Cartridges | Treatment areas |
| 1.5mm | For neck/temple(fishtail lines)/forehead |
| 3.0mm | For neck/temple(fishtail lines)/forehead |
| 4.5mm | For neck the lower jaw/jaw bones/cheeks/temple/forehead |
| 6.0mm | For back/accessory breast/stomach |
| 8.0mm | For accessory breast/back/stomach |
| 10.0mm | For Abdomen/Waist/Buttock/Thigh |
| 13.0mm | For stomach/thigh |
| 16.0mm | For stomach/thigh |
After-care Guidelines
1.You can return to your normal activities immediately after your procedure without any post treatment restrictions.
2.Avoid exposing your skin to extreme temperatures of heat or cold, and protect your skin with a good quality moisturiser and SPF.
3.Important you up your water intake and stay hydrated after your treatment
4.Avoid caffeine and alcohol for 48 hours afterwards, even longer if possible for optimal results.
5.We recommend no sun exposure for 24 to 48 hours after the treatment
6.No strenuous exercise for 24 to 48 hours to reduce any swelling that may have occurred during your treatment.
7.Your normal regime can be followed immediately, but avoid using skin products that may cause irritation for 24 to 48 hours afterwards.
8.Please do not have any other form of treatment or therapy until instructed to do so and ensure clothing is of a loose fit over the areas that have been treated to minimise any discomfort that may be present.
Categories
Contact Us
Contact: Annie
Phone: 0086-15902095923
Tel: 0086-15902095923
Add: Guangzhou City,China.