▲Derma Roller/Derma Pen
SW-58B Derma Pen auto micro roller microneedling treatment aged sagging skin rejuvenation
derma roller
derma pen
skin rejuvenation
acne treatment
SW-58B Derma Pen auto micro roller microneedling treatment aged sagging skin rejuvenation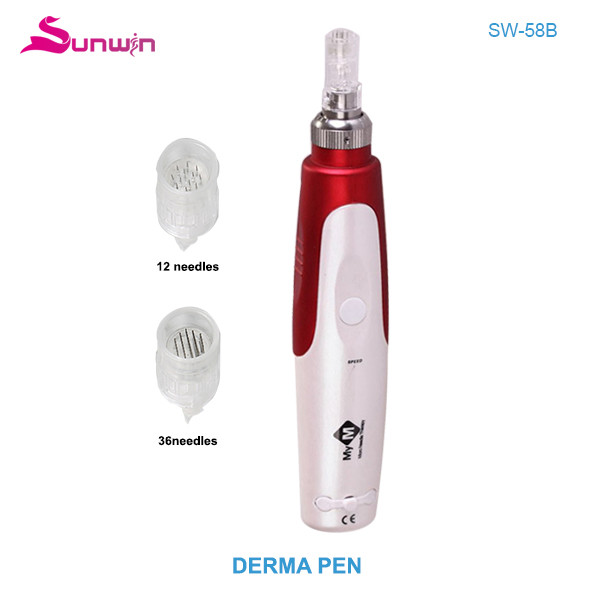 1.Function of thr needle:
1. automatic high speed roll(max speed 4000~6000 turn per minute), producing nine delivery channels.
2. various micro-needle mode to stimulate skin:
a. strengthen skin to absorb beauty production, the absorbency of skin can be reach above 40 times, and improve acne scar more than 50%.
b.the skin will be luster and elasticity, differ from laser or chemical substances, it is non invasive, can improve skin and enhances absorption.
3. the micro-needle of depth can be adjusted(0.25mm-2.0mm), greatly improved the treatment.
2.Features of nine needle:
a. 3 different high speed(High-Middle-Low)
b. easier to operate in small part or radian
c. more quickly and efficient than manual MTS Micro-needle
d. adjustable length of micro-needles(0.20mm-1.0mm)
e. because high-speed vertical movement to reduce pain to a minimum, there is no cross-infection, using a one-time disposable needles
3.Improve efficiency:
a. wrinkle removal/acne removal/improve scar, rejuvenation
b. for the narrow focus of the site can be treated(glabella, depth, wrinkle, scar)
c. shrink pores
d. treatment of stria gravidarum
e. lifting
f. improve wrinkle and fine lines
j. treatment of acne scars and healing wounds
Contact Us
Contact: Annie
Phone: 0086-15902095923
Tel: 0086-15902095923
Add: Guangzhou City,China.