▲Fractional micro RF/thermo RF face lifting
SW-K3-1 Travel home mini RF Radio frequency face lift eye massage skin tightening machine
RF
skin tightening
body slimming
Face lifting
SW-K3-1 Travel home mini RF Radio frequency face lift eye massage skin tightening machine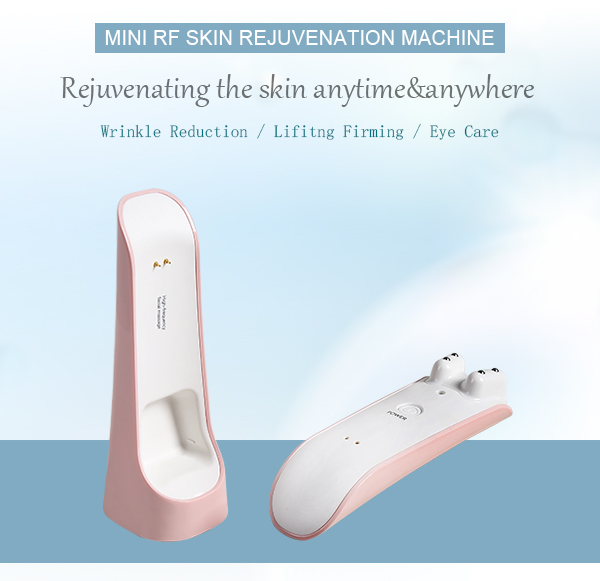 FEATURES
For all skin types
Easy operating
Small and exquisite
Easy to charge, portable and use at home/travel
Patent NO. (China) : 201930349113.6
Assembly in China/ Design by MGT in South Korea
Sunwin RF Beauty Mini machine for Skin Facial Treatments is a portable radio frequency application for aesthetic and anti-aging facial skin.
High Frequency-1 MHZ energy deliver certain heat to skin inner tissue, helps improve skin elasticity and elasticity, remove all types wrinkles.Special design of Bi-polar RF are suiable for eyelid and facial small area massage.Working electrode bulged with face-shape, more practical & convinent,helps skin deep cleaning.
This product does not generates heat on the electrode tip, but from skin inner tissue, have no side effect on superfacial skin, it leads to the reduction of wrinkles and making your skin smoother and tighter so you can have a very good Skin Facial Treatments
HOW DOES IT WORKS?
Radiofrequency (RF) produce energy, perceived as heat, which stimulates the metabolism of the treated tissues. The flow of radio frequency RF in fact, through the skin, produces the temperature rise of the underlying tissues and, in particular, of the support structures, elastin and collagen fibers, which determine elasticity and firmness. The heat energy activates fibroblasts pushing them to produce new collagen with consequent regeneration of tissue (collagenesis). The dermis is thus more toned and taut skin.
APPLICATION OF RADIO FREQUENCY
Many scientific studies have shown that the RF stimulates circulation and cell metabolism resulting in:
•Tighten skin, minimize pores;
•Deeply remove wrinkles,lifts facial contouring, remove the double chin and slims the face;
•Activate collagen cells, increase the elasticity of the skin and whitening and rejuvenate skin;
•Reduce eye bags and dark circles;
•Reduce neck wrinkles.
TECHNICAL PARAMETER
Type: High frequency RF radio frequency Facial Massager Device
LED light color(1-3 level): low/Green; Middle/yellow high/red
Voltage: DC5V
Frequency:1MHZ
Charging time: 180 minutes / DC current;
Working time: 10 minutes/time
Technology: RF radio frequency
Product size: 53*10*173mm
Net weight: 240g
Contact Us
Contact: Annie
Phone: 0086-15902095923
Tel: 0086-15902095923
Add: Guangzhou City,China.