▲Picosure Laser/ Q-Switch Laser System
SW-858E q switched nd yag laser picosecond laser pingmentation removal black color tattoo remval machine
755nm picosecond laser
picosure
cynosure
1064nm/532nm/755nm
SW-858E q switched nd yag laser picosecond laser pingmentation removal black color tattoo remval machine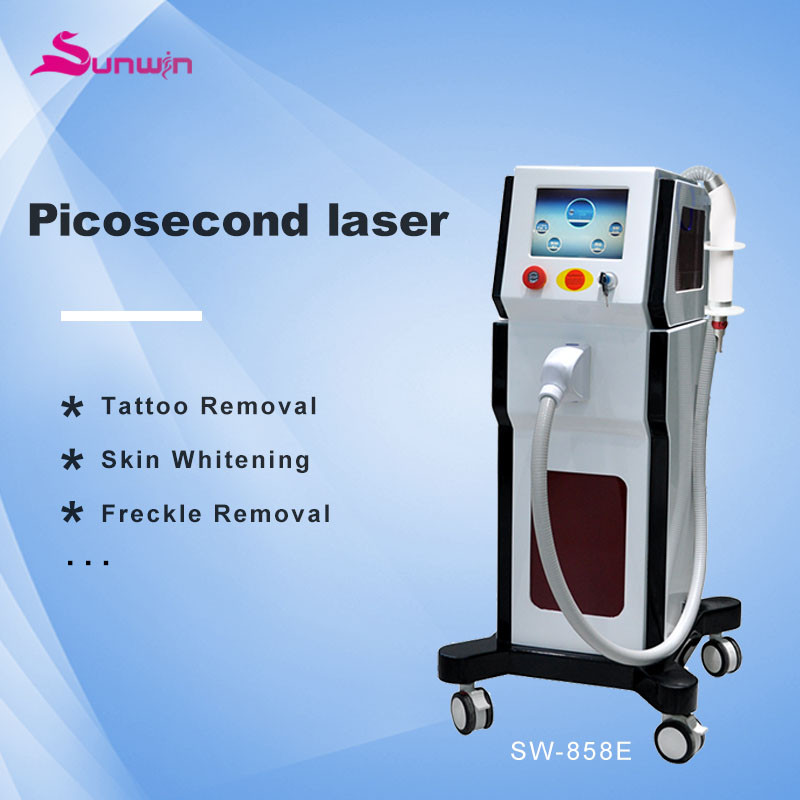 Working Principle
Laser tattoo equipment adopts the Q switch mode, which makes use of the instantaneous emitted laser to break the pigment in ill structure.. That's the laser instantaneous emit theory: centralized high energy emit suddenly, which makes laser of settled wave band instantaneously penetrate through cuticle to the ill structure in 6ns, and break the relevant pigments quickly. After absorb the heat, the pigments swell and break down, some pigments ( in skin-deep cuticle ) fly off the body immediately, and other pigments ( deep structure ) break down then become the tiny granule can be licked up by the cell, digested and egest from the lymph sell. Then the pigments in ill structure lighten to disappear. Moreover, the laser do not damage the around normal skin.
| | |
| --- | --- |
| Type of laser | Q switch nd yag laser |
| Wavelength | 1064nm/532nm/1320nm |
| Pulse Energy | 2000 mj |
| Pulse Width | 10ns |
| Instruction light | infrared ray indicator |
| Frequency | 1-10Hz |
| Spot diameter | 1-8mm |
| Cooling system | Wind+water+ semiconductor |
Function
1.1064nm:Dermal pigment lesions and dark color tattoo removal
2. 532nm:Epidermal pigment lesions,red, yellow, coffee tattoo removal
3.1320nm:Shrink pores, balance grease secretion, tightening remove fine lines, the treatment of black head,
acne, rough skin, light epidermis blain.
Contact Us
Contact: Annie
Phone: 0086-15902095923
Tel: 0086-15902095923
Add: Guangzhou City,China.