▲SHR/OPT/Elight/IPL/RF/ND YAG multifunction beauty machine
SW-279E Double SHR handle fast painless hair removal system freckle removal skin tightening ipl rf elight hair remover cosmetic machine
IPL hair removal
ND yag laser tattoo removal
RF skin tightening
SHR hair removal
SW-279E Double SHR handle fast painless hair removal system freckle removal skin tightening ipl rf elight hair remover cosmetic machine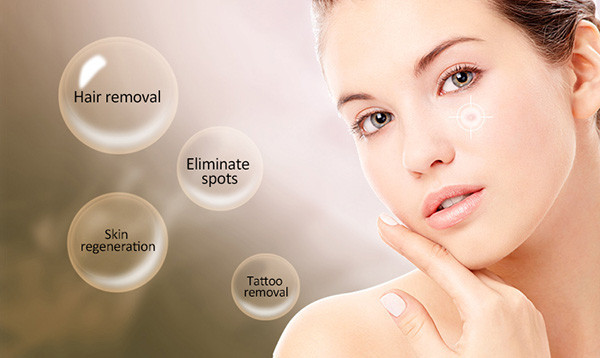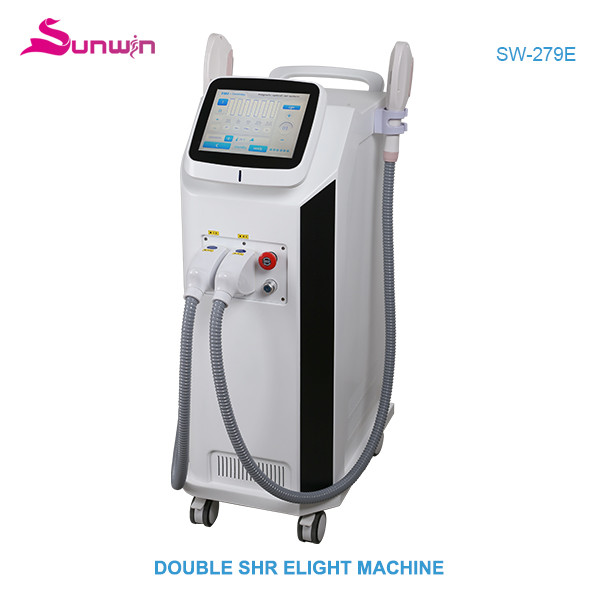 Technical Principles
SHR technology:The effective depth penetration of 640nm-1200nm professional wavelength of hair removal can reach to papilla, and continuously shines to ensure the target tissues produce sufficient heat that makes hair follicles and stem cells around them lose activity until hair follicles atrophy and hairs stop growing; latest single pulse technique andsapphire contacting operation head making operation and cooling work simultaneously, not only have a good long-term effect in hair removal,but also protect normal skin tissues from harm and make customers feel more comfortable during the operation.
SHR core is capable of precise control of each pulse, and the energy of each pulse is no attenuation effect on our skin, it is precisely because this will form a perfect pulse energy,eliminate the first pulse E light IPL high energy peaks, one by one sub-pulse energy attenuation of the drawbacks of this technology,
which makes the SHR had a special effect in the treatment of a significant improvement of the above, especially in the cream, hair removal,skin rejuvenation aspect.More Good improve skin texture, reduce the role of pores, skin rejuvenation technology is therefore a real sense,more important is the safety of the treatment is greatly improved, toavoid the kinds of IPL treatment often occur past skin burns, etc. side effects.
The real pulseenergy to the whole issue of uniform output steady, full intelligent control software, set pulsed light rejuvenation, pigmented lesions,vascular therapy in one, once SHR therapeutic effect equivalent to 2-3 times the conventional art therapy.Sapphire cooling technology, greatly improving the safety and effectiveness of treatment. This is the fourth generation of IPL technology through full breakthrough. Square wave technology that is perfectly controlled SHR intense pulsed light technology, is the latest generation of pulse technology.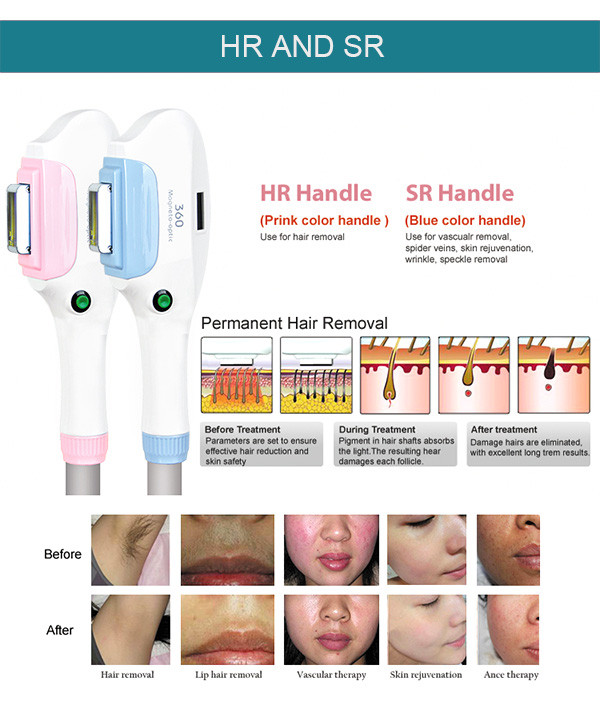 Application:
1. Therapy acne
2. Reduction of vascular lesions
3. Reduction of pigmented lesions
4. Skin rejuvenation
5. Permanent hair removal
6. Wrinkle removal
Therapy range:
SHR handpiece for fast hair removal.
IPL handpiece can do other treatment, such as normal hair removal, skin rejuvenation, pigmentation removal, ance removal, vascular removal, breast enhance.
Contact Us
Contact: Annie
Phone: 0086-15902095923
Tel: 0086-15902095923
Add: Guangzhou City,China.