▲IPL/OPT/Elight/RF/ND YAG multifunction beauty machine
SW-1880E hair removal beauty system blood vessels removal whiskers removal beauty salon equipment
IPL hair removal
ND yag laser tattoo removal
RF skin tightening
SHR hair removal
SW-1880E hair removal beauty system blood vessels removal whiskers removal beauty salon equipment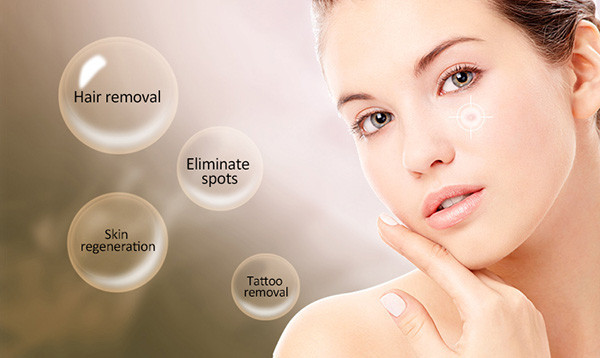 SHR OPT
1. Theory

SHR takes strong pulse IPL and bipolar radio frequency electromagnetic wave with
special width-spectrum, selectively acts on target texture, to do skin rejuvenation,
freckle removal, hair removal, wrinkle removal effectively. On treatment if 5 to 10
times than traditional photon therapy.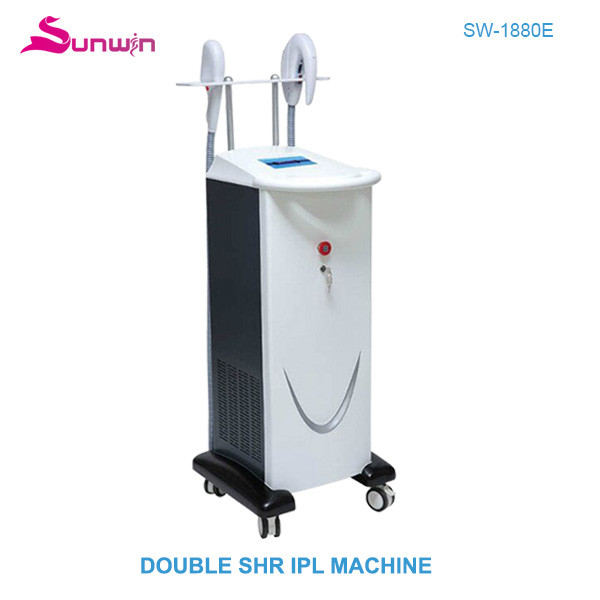 Applicable range:

Wrinkle removal, facelift, skin lift.
Theory: It combines E-light (IPL and RF) technique, that is also said electromagnetic
wave and IPL heat energy, to increase dermis layer temperature, stimulate collagen fibre
rebirth and rearrangement, so as to do wrinkle removal, face lift and lift skin without pain.
Permanent hair removal
IPL hair removal theory: It uses light with selective inhalation, through hair nipple of
hair trunk and hair folliculus, which exists rich melanin cell, to inhale strong pulse IPL,
produce heat energy into hair folliculus, folliculus temperature will be rapidly increased
and the foliculus will be putrescence, so that can effective remove hair for ever.
IPL and RF together to do hair removal: Based on IPL technique, it combines radio
frequency energy which can down to hypodermal 15MM, directly acts on hair folliculus,
make their melanin inhale more energy, so that has better effect on tiny thin hair, light hair,
golden hair and white hair.
Dispel deep freckle, epidermis freckle, whiten skin, dispel thread vein.
Simple IPL technique: it uses Hemoglobin and pigment group which can inhale light
selectively and dissolve, to increase target texture temperature. Under the premise not to
damage normal skin tissue especially epidermis, make target texture, putrescence, so as to
get good therapy.

Acne skin therapy
The before IPL equipment, it doesn't have effective therapy on acne skin, but now, we uses
IPL and RF technique together, get very good result in clinic.

Theory: It uses IPL and RF energy, act on and kill Ciprofloxacin bacilli existed in acne,
decrease sebaceous gland activation, at same time, it will elimite pigmentation, stimulate
deep collagen rebirth and rearrangement, so as to get good result.
Contact Us
Contact: Annie
Phone: 0086-15902095923
Tel: 0086-15902095923
Add: Guangzhou City,China.