▲Fractional micro RF/thermo RF face lifting
SW-168B Monopole RF facial lifting radio frequency body slimming skin tightening machine
RF
skin tightening
body slimming
Face lifting
SW-168B Monopole RF facial lifting radio frequency body slimming skin tightening machine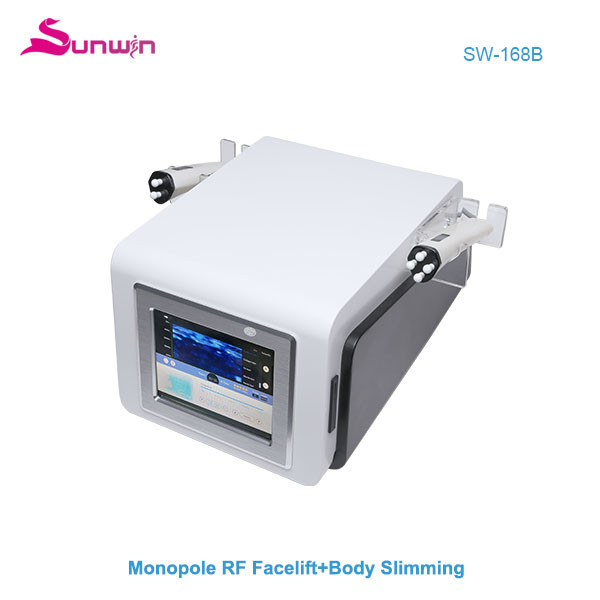 Monopolar RF takes epidermis balance normal temperature , RF electric wave produces heat into deep skin as nuclear technique , based on assure of skin comfortable , harmless , it uses RF electric wave to produce heat exchange , precisely attains skin deep , stimulates inner ion of body colloid granule with electricity will be forced rapid movement , vibration or attrition , then produce heat energy . At same time , under effect of polarized molecule resonance , it heats collagen tissue of dermis layer . When deep collagen tissue is heated up to 45-60,it will naturally produce instant shrinking , stimulate to excrete much new collagen to make up inter space of the shrinking or lost collagen protein , and make them rearrray , rebuilt skin soft bracket , finally get tight skin , remove wrinkle , recover skin elasticity and luster
Treatment Scope of RF:
Face: Thin line, forehead wrinkle, cheek line, wrinkle around lip, neck line, double
Chin, skin-smoothing.
Eye: The RF is effective for eyelid-sagging, crows- feet, wrinkles under eye and
Pouch.
Chest: Enhance chest shape, breast-beautifying and chest-strengthening
Body: Tighten the loose-skin of arm, waist, abdomen, and leg and pregnancy line.
Functions:
Face lifting,smooth the wrinkle
Skin-lift around eyes
Tighten neck skin
Improve conditions of sagging skin
Forehead wrinkle removals
Breast lifting
Shape back contour
Shape belly contour
Shape buttocks and legs contour
Features:
1) Safe and easy to operate
2) Flexible, frequency and time could be adjusted
3) With high energy, attain the affects of therapy in little time
4) Special design for the RF heads: It equips with difference size of RF heads, suitable for face skin and the other parts of body.
5) No attack, it penetrates RF into skin deep, non-surgical treatment for wrinkles and facial skin imperfections.
6) No side-effect, it is not LASER, no need concerning black again.
7) No need recovery period, you can use makeup at once after therapy, no mark on the therapeutic part.
Contact Us
Contact: Annie
Phone: 0086-15902095923
Tel: 0086-15902095923
Add: Guangzhou City,China.