▲SHR/OPT/Elight/IPL/RF/ND YAG multifunction beauty machine
SW-879E 2 in 1 IPL DPL Picosecond Laser fast hair remover tattoo removal carbon peeling skin rejuvenation
IPL hair removal
DPL hair removal
IPL Elight SHR OPT
laser tattoo removal
SW-879E 2 in 1 IPL DPL picosecond laser fast hair remover tattoo removal carbon peeling skin rejuvenation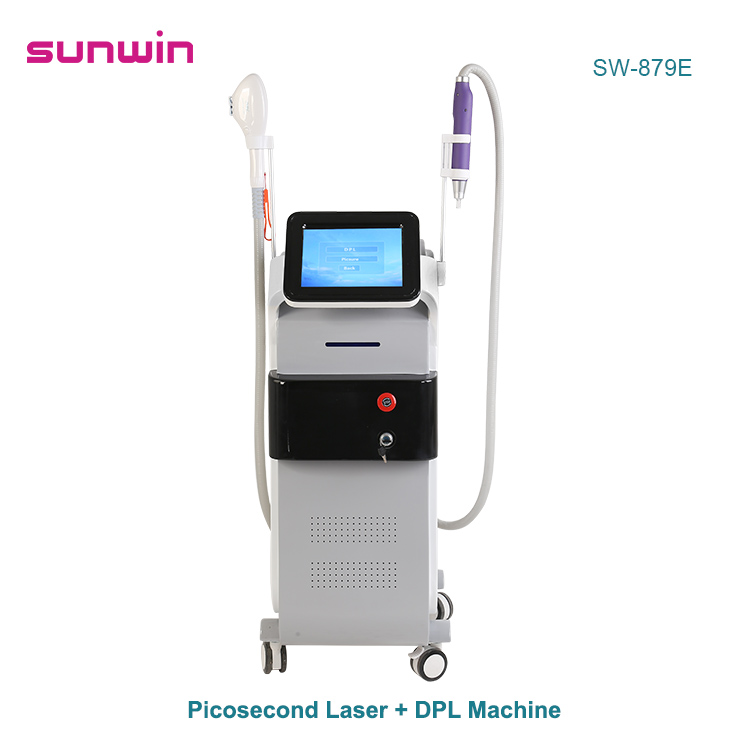 Theory
Dye Pulse Light(DPL) is the world's latest generation of E-light technology, also known as narrow-spectrum light rejuvenation. Unlike the traditional photorejuvenation (IPL, Intense Pulse Light), it can emit a set precise wavelength of light controlled at a special wavelength of 100nm which can be effectively assimilated by melanin and hemoglobin to treat the diseased tissues, to quickly and effectively solve problems such as hair and facial spots, telangiectasia, which can make skin white and tender.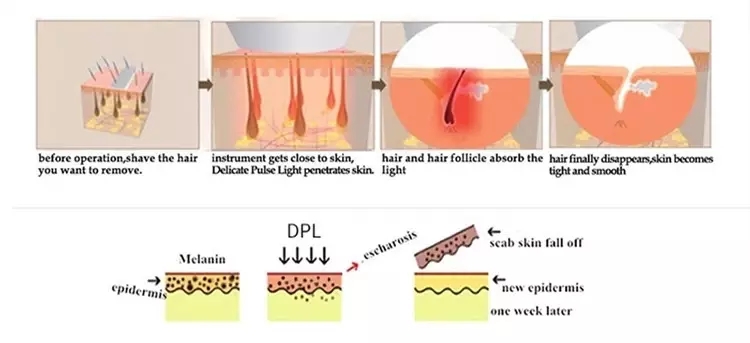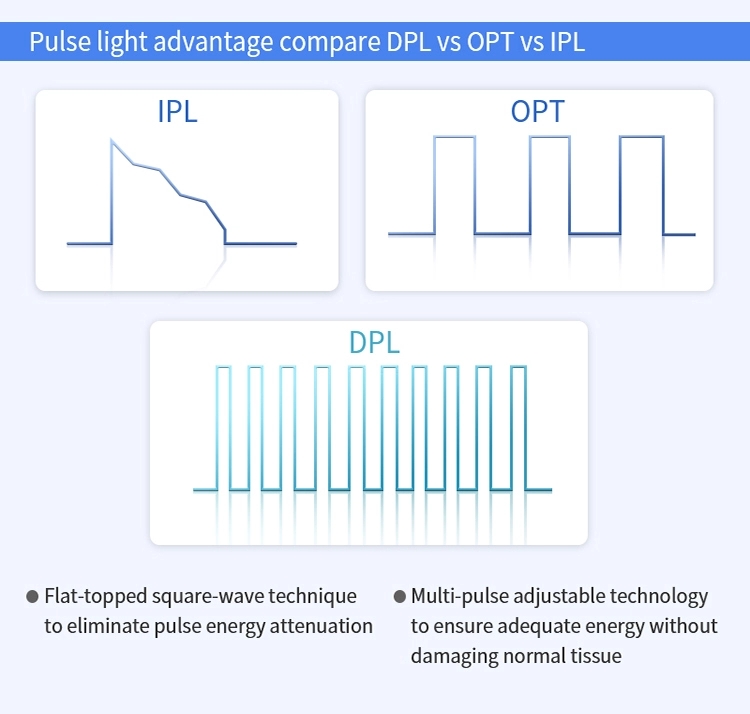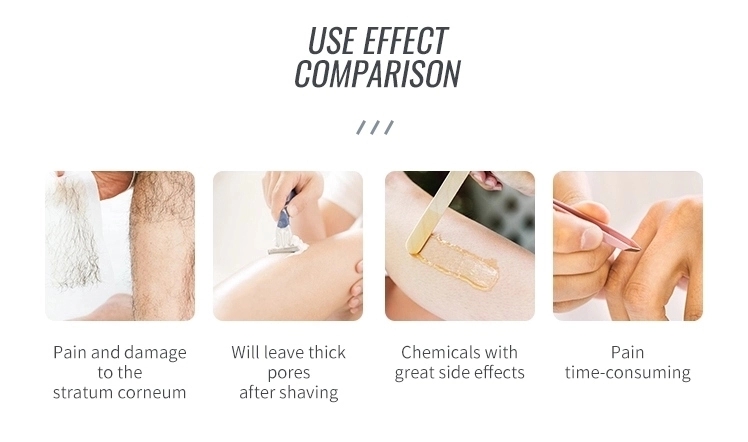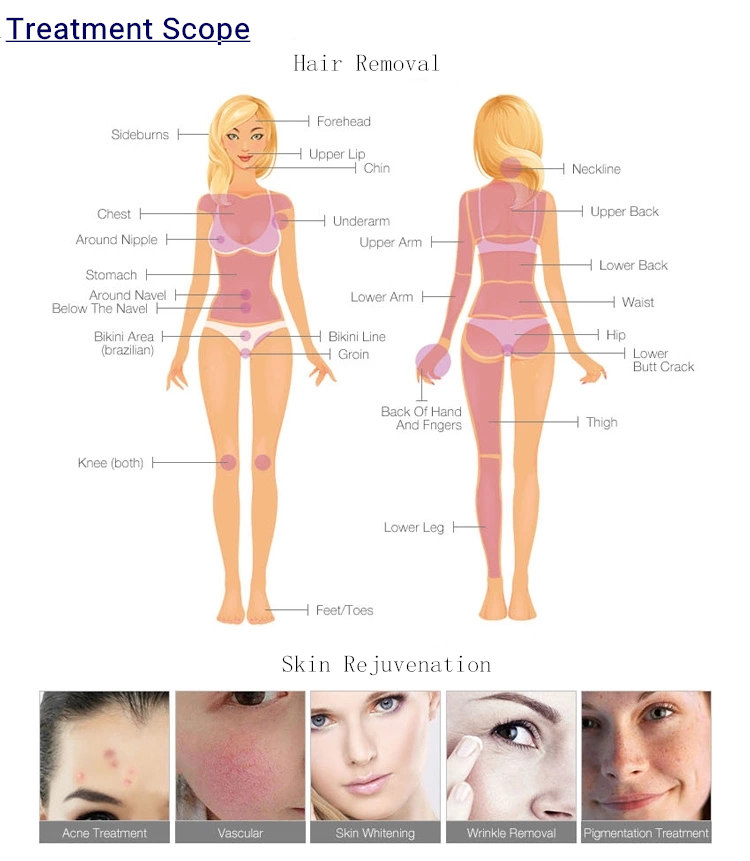 Application
1. Pain-free hair removal, permanent removal of excess body hair(skin type I-VI)
2. Skin rejuvenation: prose minimizing , remove wrinkle, brighten skin tone
3. Red blood removal: congenital red blood, red blood after skin resurfacing, flush, red mark of acne, etc.
4. Freckle removal: freckles, sunburn,, epidermis patch, etc.
5. Acne removal: acne, red acne mark.
Features
1. More faster & quicker flashing, suitable for 6 skin types, permanent painless hair removal.
2. Accurate wavelength and efficient energy of DPL, hair removal, skin rejuvenation, long and effective result of pigmentation and vascular lesions removal.
3. Easy to operate, short treatment time, 30 minutes for each time.
4. No surgery, no anesthesia, no side effect, no downtime.
Picosecond Laser Theory

Laser tattoo equipment adopts the Q switch mode, which makes use of the instantaneous emitted laser to break the pigment in ill structure.. That's the laserinstantaneous emit theory: centralized high energy emit suddenly, which makes laser of settled wave band instantaneously penetrate through cuticle to the ill structure in 6ns, and break the relevant pigments quickly. After absorb the heat, the pigments swell and break down, some pigments ( in skin-deep cuticle ) fly off the body immediately, and other pigments ( deep structure ) break down then become the tiny granule can be licked up by the cell, digested and egest from the lymph sell. Then the pigments in ill structure lighten to disappear. Moreover, the laser do not damage the around normal skin.
What is the machine capable of ?
1. Remove a range of pigment conditions like freckles, sunspots, chloasma, nevus of ota and other discoloration.
2. Wrinkle, age lines removal, and acne scars removal.
3. Remove all color tattoo, stubborn tattoo.
Functions of different wavelength:
1. 1064nm:Dermal/Epidermal pigment lesions and dark ink color (black, blue and green) tattoo removal.
2. 532nm: Epidermal pigment lesions,brighter ink colors(red, orange and yellow) tattoo removal.
3. 1320nm: shrink pores, balance grease secretion, the treatment of black head, acne, rough skin.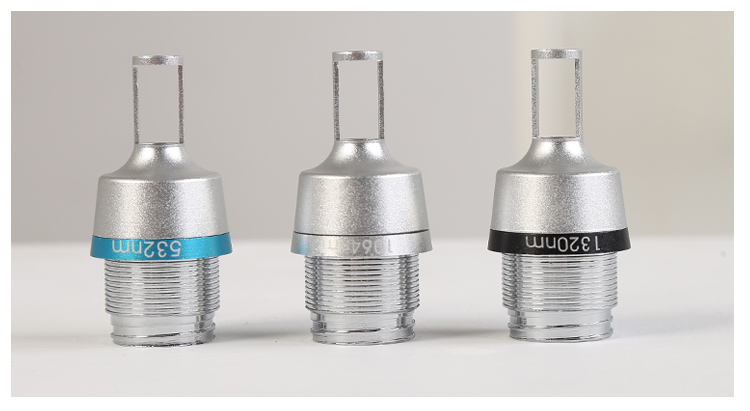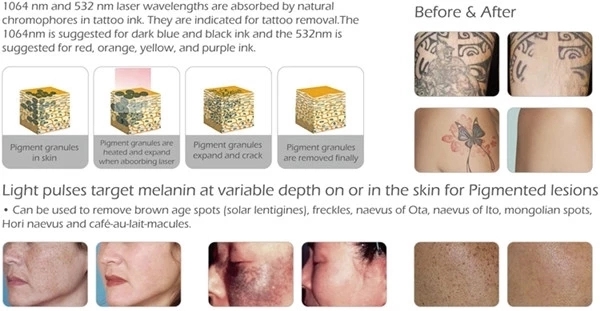 Contact Us
Contact: Annie
Phone: 0086-15902095923
Tel: 0086-15902095923
Add: Guangzhou City,China.