▲Fractional micro RF/thermage RF face lifting
THM11 Thermalift wrinkle removal RF face lift radio frequency skin tightening machine
thermage
thermolift face lift
face lift beauty machine
wrinkle removal
THM11 Thermalift wrinkle removal RF face lift radio frequency skin tightening machine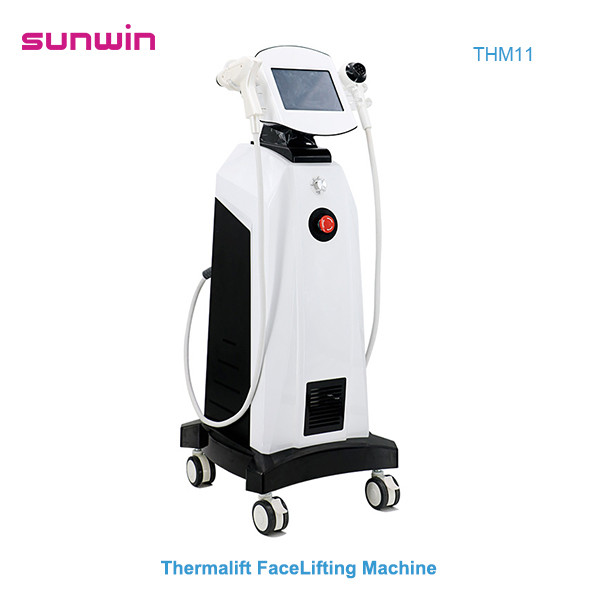 Thermal body&face lifting", a miracle instrument to make facelift without any surgical operation, which can effectively reduce the wrinkles, awaken the skin elasticity, lift the soft tissue structure, improve to firm the face and intensify the rejuvenation effect on the face, honored as "a spring of younger.
Application
1) Wrinkle removal
2) Face lifting
3) Increased blood circulation
4) Body slimming and fat reduction
5) Help lymph drainage
♥Erase wrinkle tighten skin: Forehead wrinkles, eye round fine lines, neck/hands/body all kinds of wrinkle.
♥Facial contour shaping: Facial relaxation, double chin, chin brow vertical curve and brow, small eyelid tightening.
♥Systemic anti-aging slimming, shaping: Arm tightening and shaping, back tightening and shaping, breasts shaping, waist and abdomen tightening.

Advatange
1. RF system is a high quality well being product, which can be used widely such as elevating the natural recovery and resistance by generating the diathermy energy with bio-energy in body converted from the safest electric energy.
2. Radio frequency system (RF frequency) balances hormones by converting electric energy into bioelectricity which causes inner body heat by molecular ion exchange. Inner body heat expands blood vessels, creating better circulation through the lymph vessels, and active cells.
3. When the high frequency electric energy transmits, the molecules of the tissue generate the bioenergy by rotation, twisting and collision while moving according to the direction of the electric current.
4. Compared to other frequency currents that don't stimulate sensory nerve, the high frequency current heats particular parts within body without feeling unpleasant or muscle contraction.
Contact Us
Contact: Annie
Phone: 0086-15902095923
Tel: 0086-15902095923
Add: Guangzhou City,China.