▲HIFU SMAS Face Body Vaginal System/Vmax/Liposonix/Ultrashape System
SW-KMAX 2 in 1 RF HIFU Vmax face neck lift wrinkle removal high intensity focused ultrasound machine
HIFU face lifting
wrinkle removal
skin tightening
skin rejuvenation
SW-KMAX 2 in 1 RF HIFU Vmax face neck lift wrinkle removal high intensity focused ultrasound machine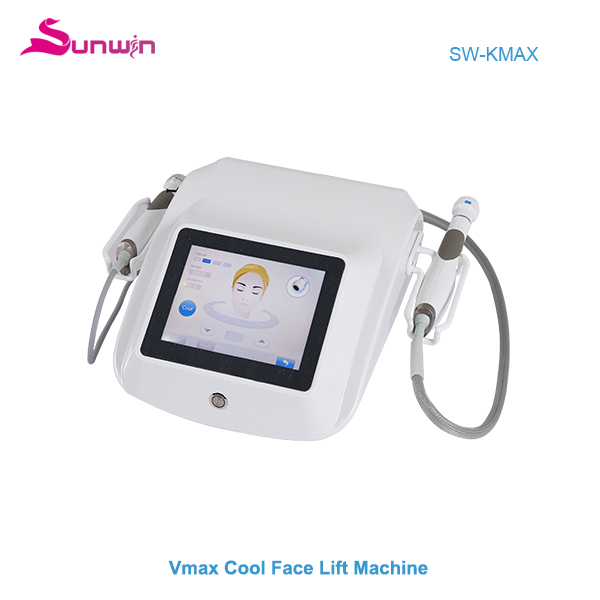 What is vmax hifu machine with cooling system?
Vmax hifu machine with cooling system is a new type of non-invasive anti-cellulite technology. It is currently the only high-tech cosmetic system that targets, tightens skin, and dissolves facial muscles and body fat layers and can replace face-lift/needle and fat/needle systems.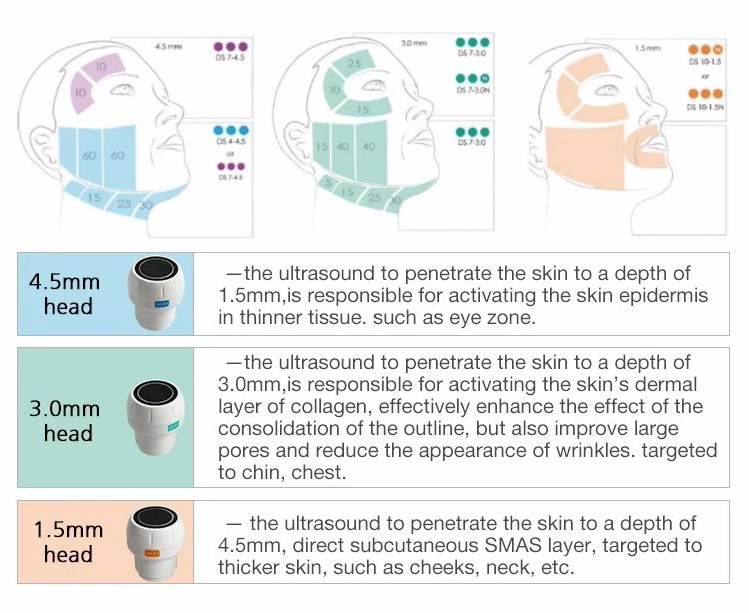 Features:
As it is equipped with the Probe (1.5mm/3.5mm/4.5mm/8.0mm/13mm) which is the most widely used in HIFU equipment, it can be used for both facial and body treatment.By adopting a self-cooling method, not a cartridge-changing way which is widely known in the market in normal HIFU devices ,V-MAX can be used for a long time without replacing a consumable cartridge. (Durable handles) Probe-rubbing methods enable easy and particular region operation.Easy control though user friendly interface on 7 inch touch LCD
Advantages:
Because V-MAX HIFU focuses energy shortly and intensively on the target area while rubbing probe, it makes less pain than other HIFU brands

Various shot intensity, shot time and shot interval can be adjusted by user's purpose. As applying rubbing operation, reducing shot and interval time, operation time can be shorter than normal HIFU operation. These shorter operation time enables to do more operations and it helps to get good results rapidly.

V-MAX doesn't need maintenance cost which mostly made by cartridge changing. It reduces medical expense and increases competitiveness. And it helps to do additional treatment without big burden.

By adopting a probe-rubbing method which is not widely used in HIFU equipment, it is possible to perform detailed operation. Ex) near cheek-bone
Water cooling system enables to give stable operation, though a long time working.
Treatment position of HIFU:
1.Remove wrinkles on around forehead, eyes, mouth, etc.
2.Lifting and tightening both cheeks skin.
3.Improving skin elasticity and shaping contour.
4.Improving jaw line, reducing "marionette lines"
5.Tightening the skin tissue on forehead, lifting the eyebrows lines.
6.Improving skin complexion, making the skin delicate and bright.
7.Match with injecting beauty like Hyaluronic acid, collagen, to resolve more aging problem.
8.Removing neck wrinkles, protecting neck aging.
9.weight loss/slimming/body skin tightening.

Technology Parameter:
| | |
| --- | --- |
| Product Name | V-max hifu+RF face lift skin tightening with cooling system |
| Model No. | SW-KMAX |
| Handle 1 | Vmax handle |
| Handle 2 | RF handle |
| Treatment Probes | 1.5/3.0/4.5/8.0/13.0mm for face and body |
| Shots | 40,000 shots for each cartridge |
Contact Us
Contact: Annie
Phone: 0086-15902095923
Tel: 0086-15902095923
Add: Guangzhou City,China.