▲Oxygeneo/facial spa/Hydro Facial Cleaning Series
SW-B13 3 in 1 Ultrasonic RF Co2 Oxygen facial skin rejuvenation whitening machine beauty salon spa clinic use
Oxygeneo
skin rejuvenation
Oxygen injection
Face lifting
SW-B13 3 in 1 Ultrasonic RF Co2 Oxygen facial skin rejuvenation whitening machine beauty salon spa clinic use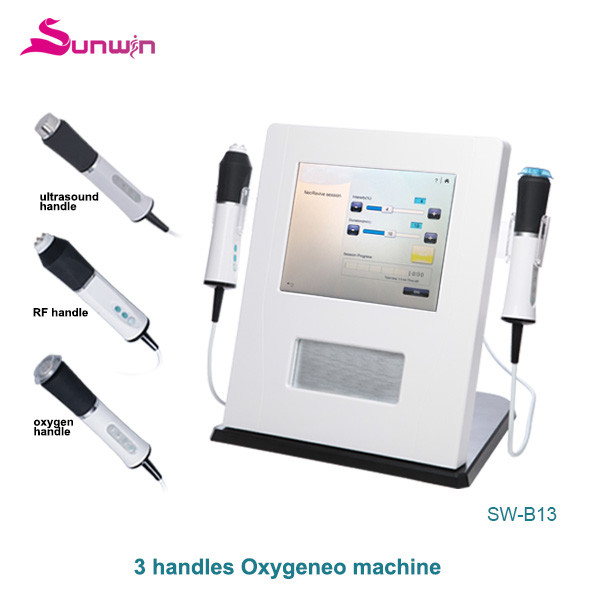 Designed with the professional aesthetic in mind, oxygenation combines new patented oxygenation technology with renowned Multi-polar technology. oxygenation provides top-quality skin nutrition and oxygenation along with clinically proven anti-aging results.
The combination of Multi-polar RF and oxygen improves skin quality both at the epidermis and dermis layers offering long-term results.
Oxygen technoogy
Natural hot springs have been known through the ages for their therapeutic benefits, allowing minerals to be effectively absorbed through the skin to revitalize body cells. Alike the natural hot springs result, Oxygenation is the world`s first technology that remarkably enhances the absorption and optimal utilization of nutrients by the skin using our unique Capsugen and specialized Gels.
3 in 1 skin care treatment to actively nourish, vitalize and hydrating the skin
1.Oxygeneration
Oxygerneration application generates a chemical reaction producing CO2 bubbles which gently burst on the skin' s surface to oxygenate skin for a radiant, revitalised glow.
2.Exfoliation
This application is combined with the innovative Capsugen tablet attached to the tip of the handpiece which exfoliates the epidermis to removee dead skin cells for an instantly smoother complexion.
3.Infusion
The body responds to the Oxygeneration application with the hemogoblin carrying oxygen to the skin' s surface. This further increases oxygen levels which drives the active ingredients of the treatment gel deeper into the skin for a superior skin-corrective result.
Multi-polar - The 3rd generation RF anti-aging technology
. Wrinkle removal
. Facial tightening
. Safe, effective and convenient
. Fast and long lasting results
Application:
1. Cells reviving, Carbon oxygen skin care.
2. Skin rejuvenation,repair dull skin.
3. Face firming,improve and prevent skin aging, narrow coarse pores, whitening skin.
4. Cosmetics infusion, use ultrasound technology to infuse cosmetics liquid into deep of skin through a system of precisely controlling the infusion speed of liquid.
5. Radio frequency heating ,stimulates the generation of collagen albumen for face lifting,skin tightening,etc.
6. Facial deep cleaning, Microbubble cleaning.
7. Deep moisturizing.
Contact Us
Contact: Annie
Phone: 0086-15902095923
Tel: 0086-15902095923
Add: Guangzhou City,China.