▲Oxygeneo/facial spa/Hydro Facial Cleaning Series
SW-520B-1 Beauty Salon 7 in 1 Hydra Dermabrasion Diamond Peeling and Water Jet Beauty Aqua Peel Dermabrasion Facial Peel Machine With LED Mask
aqua peel
hydra facial
oxygen injection
deep cleansing
SW-520B-1 Beauty Salon 7 in 1 Hydra Dermabrasion Diamond Peeling and Water Jet Beauty Aqua Peel Dermabrasion Facial Peel Machine With LED Mask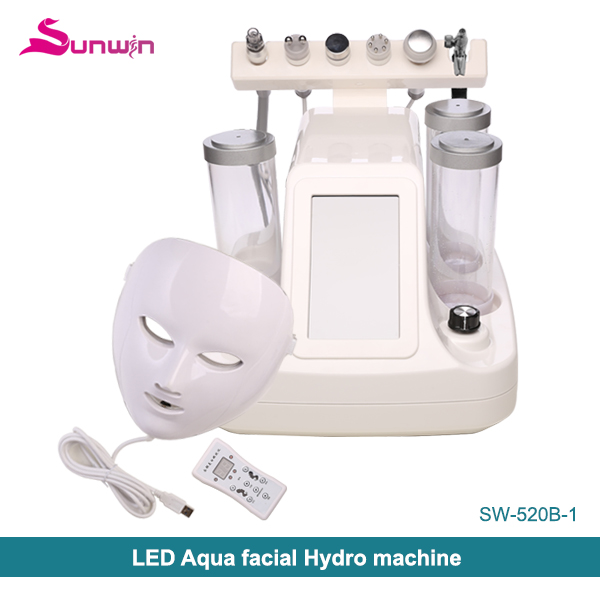 Function
1. Hydro Microdermabrasion
The treatment is the newest advance in non-laser skin resurfacing. it is the only hydradermabrasion equipment combining cleansing, exfoliation, extraction, hydration and antioxidant protection simultaneously, resulting in clearer, more beautiful skin with no discomfort or downtime. The treatment is soothing, moisturizing, non-invasive and non-irritating.
2. BIO Handle
BIO sine wave work handle has calming,soothing and firming effect, shirnk pores,soothopain and reduce the swelling excrete by the process of metabolism, and the vessal and nurve will not be damaged.

3. RF handle
has a good work on penetrating into the dermis to tighten the collagen protein not just heating and stimulate the proliferation of collagen protein.

4. Ultrasonic handle
has a mechanical, hyperthermia and biochemical effect, promote blood circulation, soften organizations, speed up chemical reaction.
5. Oxygen Sprayer
helps to calm down the skin and to enhance the healing processes of the tissue.
6. Cold Hammer
Shrink pores, prevent moisture loss, and achieve allergy sedative effect.
7. 7 colors led mask
Light therapy is a non-invasive, safe, highly effective method for a finer and younger appearance of the skin, as it represents a cold light without the potential thermal damage or UV-spectrum-related skin damage, and that the therapeutic method is without any side effects or pain effective for the relief of symptoms in acne and problematic skin.
Technology

Water dermabrasion/Ultrasound/Bio microcurrent Multi-polar RF

Model

Hydro dermabrasion

Function

1) Hydradermabrasion

2) Water diamond dermabrasion

3) Bio microcurrent for skin

4) Multi-polar RF

5) Oxygen sprayer

6) Cold hammer

7) LED Mask

Handle and MHz

1) Water dermabrasion: 1handle and 8 tips

2) Ultransound :1 handle and 1 MHz

3) Bio microcurrent: 1 handle

4) Multi-polar RF : 1 handle and 1 MHz

Voltage

110V60HZ 220V50HZ

Power

250±5W

Water Recycling System

Yes

Water Alert System

Yes

Control System

Touch screen control

Certificate

CE
Nutrition liquid
PS1: Containing AHA ingredients to make proteins dissolve and clean pores, deep cleaning pores dirt, keep it clean skin.
PS2: Containing BHA ingredient to dissolve blackheads, dead skin and clean pores, suitable wrinkle removal Sterilization, anti-inflammatory, antibacterial.
PS3: Containing GALACTOMYS ingredients to Hydrates skin and supply nutrients to the skin, containing EGF ingredients to make the skin shiny,smooth, luster, moist.
PSC: Water to clean the bottle
Hydra treament process
Step 1 Cleansing and exfoliation (Dead skin cells are removed to reveal health new skin)
Step 2. Acid Peel, this gentle peel helps loosen dirt and debris from pores without irritation.
Step 3. Extractions, painless, automated extractions use vortex suction to clean out pores.
Step 4. Hydration, Antioxidants and hyaluronic acid are vortex-fused to nourish and protect
Step 5. Protection, the hydrafcial daily essentials help maintain and protect your results.
Application
1. Acne treatment
2. Wound recovery
3. Curing skin diseases
4. Improving lymph circulation
5. Anti-aging , skin rejuvenation
6. Accelerating skin absorption of cosmetics
7. Reducing fine lines , wrinkles , stretch marks
8. Repair traumatized skin caused by laser treatment
9. Anti-hair-loss treatment and Hair regrowth treatment
Contact Us
Contact: Annie
Phone: 0086-15902095923
Tel: 0086-15902095923
Add: Guangzhou City,China.