▲Oxygeneo/facial spa/Hydro Facial Cleaning Series
SPA10E Beauty Salon aqua peeling spray beauty device aqua water facial remove acne skin moisturizing remove blackhead whitening beauty device
Oxygeneo
Hydra facial
oxygen injection
Face lifting
SPA10E Beauty Salon aqua peeling spray beauty device aqua water facial remove acne skin moisturizing remove blackhead whitening beauty device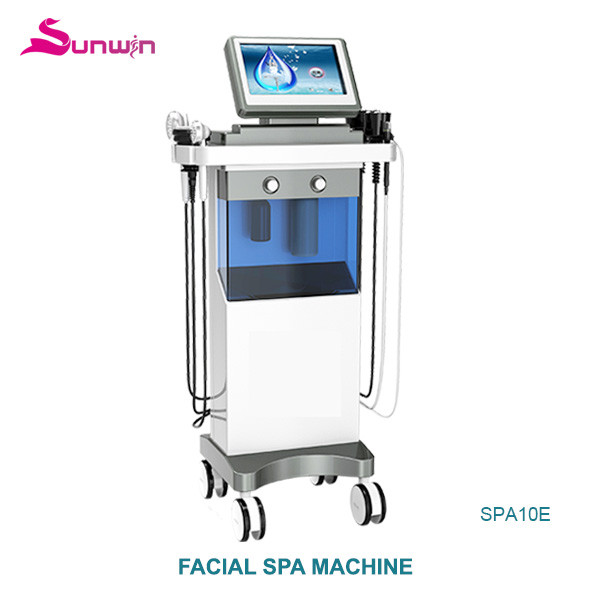 1. Spa microdermabrasion
SPA Skin beauty machine completely changed the traditional way, which is hand-cleaning skin relying on individual's practice skills, SPA Skin beauty machine, using vacuum suction mode controlled by intelligent process, through the combination of products and equipment, deep cleaning the skin and pores off horny, acne, blackheads and other impurities in very short period of time.
And improve the deep absorption of nutrition products, promote pores tightening, smooth skin, increase skin moisture, and make your skin whitening, moisturizing and good texture.
2. Diamond microdermabrasion
The diamond microdermabrasion (crystal-free) system replaces the micro-crystal flow with a
diamond tip wand. Areas closer to the eyes and mouth can be abraded more accurately with diamond abrasion - no risk of stray crystals. Provides a Non-Surgical skin resurfacing procedure by using sterile diamond heads to peel and rub off the dead cells at the top skin layer followed by vacuuming/suction removing particles along with
any dirt and dead skin. This procedure removes skin debris, scars, blemishes, wrinkles and uneven pigmentation of the skin. Moderate usage of diamond dermabrasion accompanied with skin products that penetrate through the top skin layer and reach the dermis level help to replenish natural nutrients and restore
cell activity promoting healthy skin.
3.PDT
Photon dynamic is a cold light and will not create high heat or burn the skin. It can transfer light energy into cell inner energy, accelerate circulation of cells' growth, and stimulate the fiber cell to produce collagen protein. It has unimaginable effects on aging skin, acne skin, macular skin allergic skin, wrinkled skin
and the sun-burnt skin,never bringing injury or discomfort to the skin.
PDT is the world's top scientific and technological achievement,which applies photo dynamic reactivity to skin treatment and nursing.
It is a facial skin care expert without side-effect and can be operated easily.
Function:
Water Facial Machine uses specifically designed hydropeel tips which gently exfoliate the skin using a derma planing motion. The spiral tips allow the SKIN SERUMS longer duration on the skin, whilst the spiral edges are designed to push the serums deeper into the skin – producing a plumped up effect! Water Facial Machine resurfacing treatment thoroughly enhances the skin using vortex technology to cleanse, exfoliate, extract, and hydrate simultaneously. It merges soothing and invigorating spa therapies with advanced medical technology to achieve instant lasting results.
The procedure is soothing, moisturizing, non-irritating, and immediately effective.Water Facial treatment is clinically proven to improve the appearance of fine lines, wrinkles, congested and enlarged pores, oily or acne-prone skin, hyperpigmentation and brown spots.
What's the technical specifications of model SPA10E?
| | |
| --- | --- |
| Input Voltage | AC 100V-110V, 220v-230v, 50Hz-60Hz |
| Power | 120VA |
| Ultrasound wavelength | 40KHZ |
| Technology | water dermabrasion + PDT red and blue light +vacuum RF heat + 40KHZ ultrasound cavitation |
| GW | 60KG |
| Packign size (carton case) | 58*51*108cm |
What's the advantages of this machine ?
1.Suitable for all skin types
2. Provides non-invasive, non-surgical procedure options
3. Immediate results without discomfort or downtime
4. Real high technology , high quality , high customers satisfaction
Contact Us
Contact: Annie
Phone: 0086-15902095923
Tel: 0086-15902095923
Add: Guangzhou City,China.