▲Picosure Laser/ Q-Switch Laser System
SW-828E Korea imported nd yag laser arm 755nm pigment tattoo removal Picosure picosecond laser machine
755nm picosecond laser
picosure
cynosure
1064nm/532nm/755nm
SW-828E Korea imported nd yag laser arm 755nm pigment tattoo removal Picosure picosecond laser machine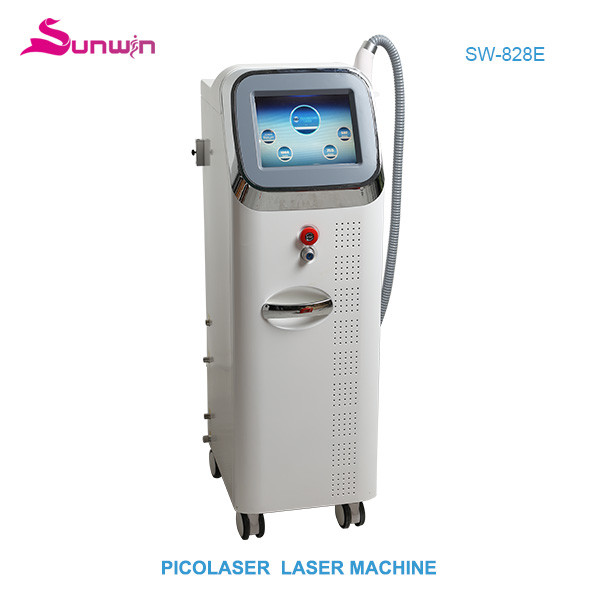 Working Principle :
Laser emitted by the system has a strong penetration ability which allows it to reach the deep
layer of dermis. The pigment particles absorb the light energy and explode sharply, burst into
the tiny pieces, thus diminish the color density and get rid of it. So the appliance can effectively
do away with mutant pigmentations and vascular tissue based on undamaged ambient tissue.
This is called 'Selective heat absorption' principle in medical field.
Application Range:
Remove the black &blue pigment on eyebrow, eye line and
lip line. Scour off tattoo,freckle, lentigines, old aged marks,
vascular expansion and type of blood vessel lesions etc.
No harm to the follicles and normal skin, leaving no scar, only to lustrate pigment.
To remove melanin not being eliminated by medicament and other means.
Be in no need of anesthesia and quick recovery. No negative influence.
Technical Advantages:
1, High energy: The 1200W laser power;
2, The frequency of fast: Maximum luminous frequency 10Hz (higher than the market general instrument doubles)
3, High stability: the use of advanced cooling system continuously for more than four hours of energy does not decay;
4, Powerful: not only do Black doll can also be used freckle, mole removal, tattoo removal and the like;
5, Security: Plug on joints, water separation, safer, more convenient to install.
The machine comes standard with the band;
1064nm : white light, the main treatment black, blue, solid color tattoo.

532nm : green light, the main treatment of brown, red, green and other colored tatto
1320nm: Black doll probe, black round mouth
(1: deep cleaning .2: White Lipstick .3: improve the skin)
Parameter
| | |
| --- | --- |
| Laser type | Q-Switched ND YAG laser |
| Wavelength | 1064nm & 532nm and black doll |
| Cooling system | wind + closed water circulation cooling |
| Display | 8inch touch screen |
| Frequency | 1-10mhz |
| laser power | 1200W |
| Width | 6ns |
Contact Us
Contact: Annie
Phone: 0086-15902095923
Tel: 0086-15902095923
Add: Guangzhou City,China.